Karna: Victory in Death (Campfire Graphic Novels #14) (Paperback)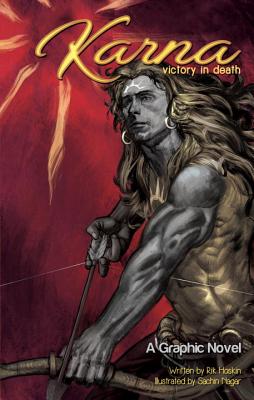 $14.99
Not currently available - email or call for details
Description
---
Unwanted by his mother, snubbed by his blood-brothers and ridiculed by all, this is the story of the unsung hero of the Mahabharata. The graphic novel traces the life-journey of this brave and noble man who became victim to the twists of fate. Loyal to a fault, Karna's blind devotion to the wicked prince Duryodhana, the one man who accepts him as a friend, leads him to side with the Kauravas and fight against his own brothers in the Battle of Kurukshetra.
About the Author
---
Rik Hoskin is a comic book writer and novelist from England. In the comic book field, Rik has written Superman, Star Wars, Doctor Who, Shrek and over 400 stories for Disney and Pixar characters, among many others. As a novelist, Rik is currently writing a series of original books based on the television series, Hercules, the Legendary Journeys. He has previously written twenty-four novels under the pen-name 'James Axler'. As Axler, Rik was the primary writer on the Outlanders series for seven years, and contributed five novels to the popular post-apocalyptic Deathlands series.


After completing his degree in computer applications, Sachin Nagar strengthened his artistic skills by pursuing a diploma in animation, in which he made full use of his technological skills. A highly motivated artist, always seeking to excel, Sachin cites Michelangelo as his one great influence. His artwork for Campfire's titles such as Gandhi and Mother Teresa has won him great acclaim among critics and comic enthusiasts alike. He has also worked on Indian mythology titles such as The Kaurava Empire, Ravana and Sundarkaand.
Praise For…
---
"I highly recommend Campfire's comics. They do what they are intended to do and do it in a way that excites kids about classic literature." -- Chris Wilson, The Graphic Classroom