Conquering Everest: The Lives of Edmund Hillary and Tenzing Norgay: A Graphic Novel (Campfire Graphic Novels) (Paperback)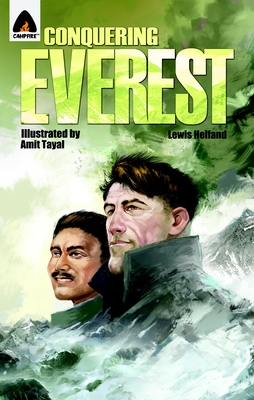 $14.29
Not currently available - email or call for details
Description
---
Tenzing Norgay was the son of poor Tibetan immigrants living in Nepal. He longed to see the world but was told he could aspire to be little more than a servant. Edmund Hillary was a humble beekeeper from New Zealand, who spent his youth dreaming of adventures he could never hope to experience.
And Everest was the ultimate adventure. The mountain's peak is the highest point on Earth, stretching beyond the clouds. So dangerous and challenging, Everest had never been successfully climbed and many had died trying. In 1953, Tenzing Norgay and Edmund Hillary joined a team of explorers determined to reach its top.
Alone at the top of the world with their oxygen running low, they faced brutal elements and new dangers at every turn. And they were armed with little more than their courage, determination, and a belief in each other. But would that be enough to achieve the impossible, what no man had done before?
About the Author
---
Lewis Helfand was born in 1978 in Philadelphia. Passionate about comic books, Lewis soon published his very own, Wasted Minute - a story of a world without crime where superheroes are forced to work regular jobs. With the first issue received well, he was soon collaborating with other artists and released four more issues over the next few years. At the same time, Lewis continues to work outside the field of comic books as a freelance writer and reporter for a number of national print and online publications.
Praise For…
---
"Helfand switches things up a bit in his biography of Hillary and Norgay, allowing his characters to tell their stories for the first half of the book. Starting with Norgay, the two men alternate talking to each other about their lives and the events that brought them to an Everest base camp in 1953, just before their historical scaling of the summit. The use of different colored borders on their text boxes and a clear voice for each man keeps readers from getting confused. In the second half of the book, a narrator takes over and readers ascend to the heights, feeling the danger and excitement along the way. [Illustrator] Tayal . . . and Helfand are adept at putting readers directly into the cold and hardship and even those without much knowledge of mountain climbing will be able to easily follow what is happening. The extras here include a glossary and facts about young climbers who have scaled Everest's peak." -- School Library Journal

"A vivid double character portrait, enhanced by equally sharp glimpses of climbing techniques, strategies and hazards."

— Kirkus Reviews



"I highly recommend Campfire's comics. They do what they are intended to do and do it in  a way that excites kids about classic literature."

— Chris Wilson, The Graphic Classroom (a resource for teachers and librarians)