Gandhi: My Life is My Message (Campfire Graphic Novels) (Paperback)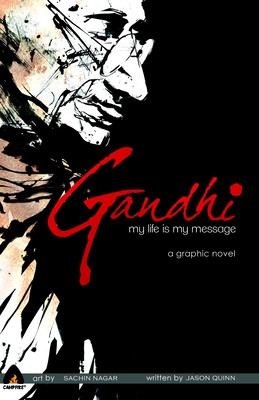 $19.99
Not currently available - email or call for details
Description
---
How did this shy, unassuming lawyer transform himself into the leader of India's freedom movement? Renouncing wealth, ambition and comfort, Gandhi led by example, becoming one with the people he sought to free, facing imprisonment, hardship and humiliation while never raising his voice in anger. His strategy of nonviolent protest would become the model for the US civil rights movement led by Martin Luther King, Jr. and continues to change history throughout the world.

Mohandas Karamchand Gandhi, better known as the Mahatma or Great Soul, took on the might of the British Empire armed only with a message of love and non-violence. In Gandhi: Apostle of Peace we discover the man behind the legend, following him from his birth in the Indian coastal town of Porbandar in 1869, to the moment of his tragic death at the hands of an assassin in January 1948, just months after the Independence of India.
About the Author
---
Jason Quinn is the author of Campfire's Award Winning Steve Jobs: Genius by Design graphic novel. He began his publishing career as editor of Barbie comic, before going on to write for Spider Man, Ben 10 and many more. He now lives and works in Delhi as Head of Creative Content at Campfire Graphic Novels.

Sachin Nagar has worked on many of Campfire's most successful books including the award winning Sundarkaand: The Triumph of Hanuman, Ravana: Roar of the Demon King and Mother Teresa: Angel of the Slums. Sachin is one of the most versatile artists working in the graphic novel industry today and says that he likes to push the boundaries and try something new and daring with every project he works on.
Praise For…
---
"Presented as a fictionalized memoir of the titular subject, this beautifully drawn and richly colored biography reaches from Mahatma Gandhi's childhood through his assassination . . . Just as the writing eloquently intertwines explication with reenactments of dramatic, poignant events, the panels are meticulously arranged to move the reader's attention from broad and busy scenes to intimate close-ups. The high production value of the work—including expressive watercolor illustrations and a sturdy sewn binding—ensures that this volume will have a long shelf life." — Booklist (Starred Review)

"A fictionalized graphic 'memoir' conveys bright pictures of the Great Soul's character and achievements without falling into blind hero worship... Along with placing the large blocks of dialogue and narrative so that they're seldom in the way, [illustrator Sachin] Nagar expertly positions panels and figures to create a visual sweep even in relatively static compositions. Action in the art is easy to follow, and scenes of violence are explicit but not disturbingly so. Inspiring, of course…but also a well-told tale, rich alike in intimate moments and momentous historical events." — Kirkus Reviews (Starred Review)

"Impressive in its text and art, this graphic novel describes how one man defeated an empire by leading patient, nonviolent protests. . . . a good introduction to a serious subject, respectful but not sanctimonious." — Publishers Weekly

"Gandhi's life is richly covered in this book in colorful graphic format. The language used in the text for the illustrations is simple yet thought provoking. . . . The book discovers the man behind the legend." — Monsoon Journal

The Year's Best Graphic Novel Award, Comicon India 2013

Finalist for The People's Book Prize in Nonfiction

"[Gandhi] brings to life a journey that is surprisingly humble, and immensely humbling... Gandhi's life feels rich, colourful and aptly contained in the graphic format. The illustrations, gentle and easy with light, sure strokes, feel perfiectly suited to paint the portrait of a life that was at once both gentle and firm. The dialogues could have easily become stilted and out of place but are instead in complete and easy harmony with the story. The language, simple and effortless, makes the book an accessible, easy read." — The Hindu

"Gandhi's story, told for the first time in an exciting graphic novel format, is sure to attract readers to his timeless message of peace and non-violence." — Millennium Post, India

"This book will take Gandhi's life and message to a large number of youngsters across the world in an enjoyable format. He has accomplished a difficult task with skill and a fine understanding of Gandhi's life and message." — Professor Rajmohan Gandhi, author of Mohandas: A True Story of a Man, His People and an Empire and Grandson to Mahatma Gandhi 


"Vividly detailed and interesting." — The Statesman, India

"The novel is a sensitive portrayal of Mahatma Gandhi's entire life and contains little-known anecdotes from his childhood right through to the moment of his assassination." — Net India123

"I highly recommend Campfire's comics. They do what they are intended to do and do it in  a way that excites kids about classic literature." — Chris Wilson, The Graphic Classroom (a resource for teachers and librarians)