Bilingue Français Anglais Roman Enfant (8 ans +). Help ! Suis Accro Au Snow / Dude's Gotta Snowboard (Paperback)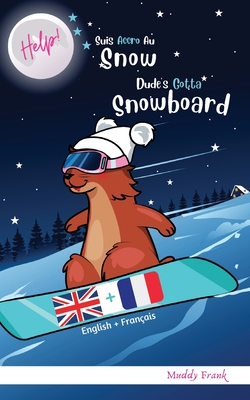 $29.69
Not currently available - email or call for details
Description
---
Ce roman fantastique, avec th mes d'animaux, se lit avec l'anglais d'un c t , et le fran ais de l'autre.
Ce livre permettra votre enfant de valider ses connaissances linguistiques, d'avoir de nouveaux mots anglais, et de noter des traductions naturelles. Tout en appr ciant la dr le d'histoire de Magali
Magali a un petit probl me. Elle est une marmotte fran aise, n'est-ce pas ? Donc, elle a besoin de dormir en hiver, sous terre. Mais, elle se fait jeter hors de chez elle et rencontre plein d'animaux qui font du snowboard. Alors, elle apprend faire du surf, et elle devient accro au Snowpark. En plus, ses nouveaux amis, Henri Le Li vre, F-F-Foxy, Little Foxy, Puppy B b , et Chamois Luc l'ont inscrite au Ride Or Die Slalom Elle doit participer S rieusement, quand va-t-elle rentrer la maison ?
Groupe d' ge (dans la langue maternelle): 8 12 ans. Mais les adultes vont adorer aussi.
Kids Bilingual Middle Grade Adventure Book.
This fantasy adventure book, with animals as main characters, reads with English on one side, French on the other side.
Your child will reaffirm their existing French knowledge, build some new vocabulary, and learn natural translation phrases. All whilst enjoying the funny story of Magali
Magali is a French marmot, right? She gets separated from her family, and meets loads of animals who snowboard. So, she learns to board, then gets addicted to the Snowpark. Now she doesn't even want to go home And, her new friends, Henri Le Hare, F-F-Foxy, Little Foxy, Puppy B b , and Chamois Luc have entered her into the Ride Or Die Slalom Competition She needs to Ride. Or Die
Age group (in the native language): 8 - 12 years. But adults will love it too.
Author Note: The English version has British spelling.