The American Way: A True Story of Nazi Escape, Superman, and Marilyn Monroe (Hardcover)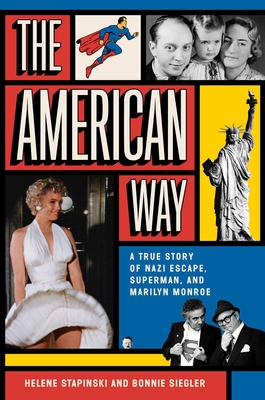 $28.99

Usually arrives at our store in 5-14 business days.
Description
---
In this "necessary and beautifully told story of struggle, compassion and serendipity" (Forbes), the publisher of DC Comics comes to the rescue of a family trying to flee Nazi Berlin, their lives linking up with a dazzling cast of 20th-century icons, all eagerly pursuing the American Dream.

Family lore had it that Bonnie Siegler's grandfather crossed paths in Midtown Manhattan late one night in 1954 with Marilyn Monroe, her white dress flying up around her as she filmed a scene for The Seven Year Itch. An amateur filmmaker, Jules Schulback had his home movie camera with him, capturing what would become the only surviving footage of that legendary night. Bonnie wasn't sure she quite believed her grandfather's story…until, cleaning out his apartment, she found the film reel. The discovery would prompt her to investigate all of her grandfather's seemingly tall tales—and lead her in pursuit of a remarkable piece of forgotten history that reads like fiction but is all true.

A "fast-moving American epic with a cast of refugees and starlets, publishers and bootleggers, comic-book creators and sports legends" (The Washington Post), The American Way follows two very different men—Jules Schulback and his unlikely benefactor, DC Comics publisher (and sometimes pornographer) Harry Donenfeld—on an exuberant true-life adventure linking glamorous old Hollywood, the birth of the comic book, and one family's experiences during the Holocaust. It's an "amazing" story told "with grace, verve, and compassion" (The Jerusalem Post) of two strivers living through an extraordinary moment in American history, their lives intersecting with a glittering array of stars in a "colorful" and "punchy" (The New York Times Book Review) tale of hope and reinvention, of daring escapes and fake identities, of big dreams and the magic of movies, and what it means to be a real-life Superman.
About the Author
---
Helene Stapinski is the nationally bestselling author of three memoirs: Five-Finger Discount, Murder in Matera, and Baby Plays Around. She writes regularly for The New York Times; her work has also appeared in The Washington Post, New York magazine, Travel & Leisure, and dozens of other publications. She teaches at New York University and lives in Brooklyn.

Bonnie Siegler is the founder and creative director of award-winning, multi-disciplinary graphic design studio Eight and a Half. The author of Dear Client, a guide for people who work with creatives, and Signs of Resistance, a visual history of protest in America, she taught design in the graduate schools of Yale University and the School of Visual Arts for many years. She lives in Connecticut.
Praise For…
---
"The American Way reads like a Michael Chabon novel inspired by a Billy Wilder or Ernst Lubitsch movie, only all the more remarkable because every bit—the plot twists and coincidences, the thrills and chills—is true. It's a fresh, intimate tale of immigrants reimagining their lives, the invention of superheroes, resistance to fascism, and sketchy mid-century bebop glamour. Such a pleasure!"
—Kurt Andersen, New York Times bestselling author of Fantasyland

"In this vivid, surprising, and entertaining book, Helene Stapinski and Bonnie Siegler take us straight into the heart of what Henry Luce called 'the American Century' in an improbable but true tale of the rise of comics, of Hollywood, and of New York, a tale of immigrants and Marilyn Monroe and Joe DiMaggio. Illuminating and engaging, The American Way is a story you couldn't make up—but thankfully, you don't have to, because here it is."
—Jon Meacham, Pulitzer Prize-winning author of The Soul of America

"A necessary and beautifully told story of struggle, compassion and serendipity that reaches out to us across the generations."
—Forbes

"A fast-moving American epic with a cast of refugees and starlets, publishers and bootleggers, comic-book creators and sports legends."
—The Washington Post

"Warmhearted and lyrical, Stapinski and Siegler trace a refugee family from Nazi Berlin whose narrow escapes, clever deceptions, hard work, dumb luck, and bottomless dreams are as iconic as the great American myths they touched."
—Sarah Rose, national bestselling author of D-Day Girls

"Colorful.... Punchy.... Stapinski and Siegler stitched together a cast of… figures and events from several recurring threads: Jewishness, New Yorkiness and, as their title indicates, a singular, striving, midcentury Americanness."
—The New York Times Book Review

"A sweeping, factual saga that reads like an adventure novel."
—ABC World News Now

"Inventively structured, ceaselessly surprising and ultimately spirits-boosting…. [Stapinski and Siegler] write with a zippiness and awe befitting tales of superheroism by the caped and capeless alike."
—Shelf Awareness

"Amazing... stories are told here with verve, grace and compassion."
— The Jerusalem Post

"An extremely fun read."
—PRINT Magazine