Transformers: The Manga, Vol. 3 (Hardcover)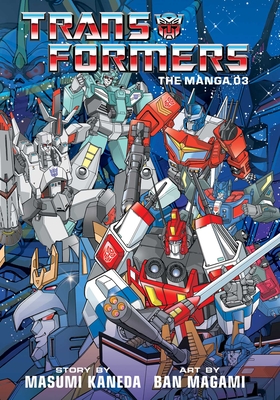 $24.99

Usually arrives at our store in 5-14 business days.
Description
---
Originally serialized in Japan's TV Magazine, these classic stories from the Generation 1 era of Transformers are now available in English for the first time!

The Autobots and the Decepticons have been locked in a brutal civil war for eons, and now their battle has come to Earth! The Autobots seek peace and coexistence, while the Decepticons seek power and control. Earth and its populace are caught in the middle as these mighty factions go head-to-head. Transformers took the world by storm shortly after their debut, and these previously uncollected stories were a vital part of that takeover!

The final volume of Transformers: The Manga is here! This deluxe volume collects three classic stories and a beautiful art gallery. "Victory" is the tale of the legendary battle between Starsaber and Deszaras. In "Zone," the Nine Great Generals run wild. And in "The Battle Stars," Super Megatron attempts to feed on planet Earth, but Optimus Prime stands in his way!
About the Author
---
Masumi Kaneda: Born in Tokyo in 1958. Representative of KND Limited. He works as a writer, planner and organizer of publishing and broadcasting for licensed character media. The original writer for the G1 series Transformers comic, and writer of the Japanese Toei Transformers anime, and supervised production of the Japanese version of The Transformers: The Movie. Writer of Transformers TV Magazine specials and all related book media. From Super-God Masterforce to Transformers Zone, he and Ban Magami did the character designs. He created all non-toy creatures and original characters for Masterforce.

Ban Magami: Born in Kanagawa in 1957. As the apprentice of manga artist Leiji Matsumoto, he worked as an assistant on "Planetary Robot Danguard Ace," "Galaxy Express 999" and other works. In 1985, he debuted "Fight! Super Robot Life-form Transformers" and he handled all of the serialization after that as well. He worked on the Kodansha Aoi Tori chapter book "The Secret of Tutankhamen," the Studio DNA anthology based on the Playstation game "Space Battleship Yamato: The Far-Off Star of Iskandal," the Heibonsha book "Engineer Story: The Power of Higher Education to Open the Door to the Future" and many other books.