WORKBOOK for CASTE: The Origins of Our Discontents Introducing Brief History of Racism, Classism, Sexism, Homophobia, Ageism, Xenophobia, (Hardcover)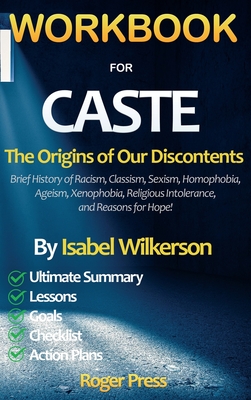 Not currently available
Special Order, Subject to Availability
Description
---
Workbook For CASTE: The Origins of Our Discontents Book Summary Introducing Brief History of Racism, Classism, Sexism, Homophobia, Ageism, Xenophobia, Religious Intolerance, and Reasons for Hope
Isabel Wilkerson in this Bestselling Book tackles what might seem the inevitable question of US politics - how is it that the Republicans are able to convince so many people to vote against their own best interests?
It's all about CASTE
In This Book "CASTE (Oprah's Book Club): The Origins of Our Discontents", Wilkerson is not shy about Discussing current US affairs, post 2016. She makes an important point about the narcissism of a group. "A group whipped into narcissistic fervor is eager to have a leader with whom it can identify...The right kind of leader can inspire a symbiotic connection that supplants logic.
On Racism; One of the most important points she makes is that racism is not just the personal hatred by one person, but a systematic abuse, often so deeply ingrained in society as to be oblivious to those in the upper caste. And that the upper caste will do everything to keep their privilege intact.
This book contains a comprehensive, well detailed Workbook, Lessons, Action plans etc of the original book by Isabel Wilkerson. It summarizes the book in detail, to help people effectively understand, articulate and imbibe the original work by Wilkerson.
There is also a Brief introduction To Racism, Classism, Sexism, Homophobia, Ageism, Xenophobia, Religious Intolerance, and Reasons for Hope
This book is not meant to replace the original book but to serve as a companion to it.
The Work Book Features:
- Executive Summary of the original book
- Lesson, Action Plans
- Goals and Checklist
- The Way Forward
To get this book, Scroll Up Now and Click on the "Buy now with 1-Click" Button to Download your Copy Right Away
Now available in paperback, Hardcover and digital editions.
Disclaimer: This is a Workbook, Summary of the book " CASTE: The Origins of Our Discontents " and not the original book.