550 Instant Pot Air Fryer Lid Cookbook for Beginners: Effortless Recipes to Fry, Roast, Bakes and Dehydrate with Your Instant Pot Air Fryer Lid (Paperback)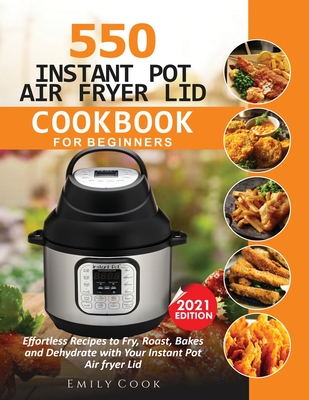 $17.54

Usually arrives at our store in 5-14 business days.
Description
---
The Instant Pot Air Fryer Lid Cookbook for Beginners is a comprehensive lifetime reference that offers the biggest selection of recipes plus fundamental information. A perfect gift for newlyweds, small families, or empty-nesters.
Do you want to save time cooking healthy meals on any budget?Do you want to Master your Ninja Foodi to impress your friends, guests and family with your great culinary skills?
Well, sure you would Eating is meant to be a shared experience and is a great time for family members to catch up with each other's day. A good meal gets them to the dinner table every time. With this Cookbook, you will become a master of your kitchen with these foolproof recipes. It was meant for beginners and advanced users.
In this Instant Pot Air Fryer Lid Cookbook you will find:
Amazing meals the whole family will love.
Most recipes made for anyone with a busy lifestyle.
Easy-to-cook and delicious-to-taste Air Fryer recipes
Detailed ingredient lists and precise cooking times so each dish turns out perfect.
Easy-to-follow instructions on making each dish in an Instant Pot Air Fryer Lid.
Improved techniques on how to cook in the most efficient way using the Instant Pot Air Fryer Lid
Let the cookbook help you enjoy the most beautiful food in the world. If you're looking for the best recipe, this book will be the right choice for you. Unlock the full potential of your Instant Pot Air Fryer Lid with this comprehensive cookbook.
Grab Your Copy Now