That Time of Year: A Minnesota Life (Hardcover)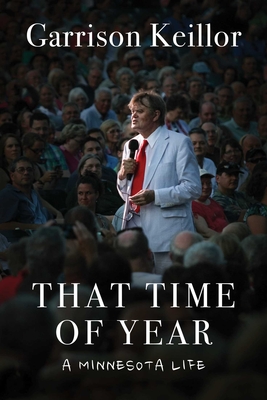 $30.00

Usually arrives at our store in 2-8 business days.
Description
---
With the warmth and humor we've come to know, the creator and host of A Prairie Home Companion shares his own remarkable story.

In That Time of Year, Garrison Keillor looks back on his life and recounts how a Brethren boy with writerly ambitions grew up in a small town on the Mississippi in the 1950s and, seeing three good friends die young, turned to comedy and radio. Through a series of unreasonable lucky breaks, he founded A Prairie Home Companion and put himself in line for a good life, including mistakes, regrets, and a few medical adventures. PHC lasted forty-two years, 1,557 shows, and enjoyed the freedom to do as it pleased for three or four million listeners every Saturday at 5 p.m. Central. He got to sing with Emmylou Harris and Renée Fleming and once sang two songs to the U.S. Supreme Court. He played a private eye and a cowboy, gave the news from his hometown, Lake Wobegon, and met Somali cabdrivers who'd learned English from listening to the show. He wrote bestselling novels, won a Grammy and a National Humanities Medal, and made a movie with Robert Altman with an alarming amount of improvisation.
 
He says, "I was unemployable and managed to invent work for myself that I loved all my life, and on top of that I married well. That's the secret, work and love. And I chose the right ancestors, impoverished Scots and Yorkshire farmers, good workers. I'm heading for eighty, and I still get up to write before dawn every day."
About the Author
---
Garrison Keillor, born in Anoka, Minnesota, in 1942, is an essayist, columnist, blogger, and writer of sonnets, songs, and limericks, whose novel Pontoon the New York Times said was "a tough-minded book . . . full of wistfulness and futility yet somehow spangled with hope"—no easy matter, especially the spangling. Garrison Keillor wrote and hosted the radio show A Prairie Home Companion for more than forty years, all thanks to kind aunts and good teachers and a very high threshold of boredom. In his retirement, he's written a memoir and a novel. He and his wife, Jenny Lind Nilsson, live in Minneapolis and New York.
 
Praise For…
---
"Keillor is . . . sharing with readers a lifetime of success and regrets. His book is funny, sad, poignant, and sometimes wistful, especially when he recalls good times on the PHC tour bus, traveling to performances all over the country."—Pioneer Press

"That Time of Year is a major work: a thoroughgoing portrait of its artist as both a young man and a somewhat sad but grateful oldster. Each period of Keillor's life is recounted, frequently in novelistic detail, with humor and humility,"—Washington Examiner

"Die-hard fans will treasure stories with Keillor as the central character, rather than trying to discover him behind that Guy Noir mask."—Star Tribune

"The title  may have been borrowed from Shakespeare, but the content is vintage Keillor—and then some. But it's also vintage Minnesotan—and then some. . . .The result is a memoir that must have been (mostly) delightful to write and is entirely delightful to read. In fact, it's a companion of sorts to Prairie Home Companion. Like the show itself, Mr. Keillor's recollections occasion many a chuckle and more than an occasional belly laugh."—The Imaginative Conservative

"An excellent memoir . . . As with all great humorists, there is a core of anger at the stupidity of the world and a sense that he is fighting fiercely for dignity against the odds. And what a strange dignity it is! . . . Keillor has a great gift for self-reflection, and in the final chapters of the book, as he looks back over the story of his life, now winding down in a kind of cultural exile, his clear-sighted self-assessment is moving and impressive."—Storming Bohemian Punks

"He writes in a style that is reminiscent of his Prairie Home stories, rambling, self-deprecating and true to life. If you grew up in a small town, you'll instantly identify with some of his stories and experiences. . . . An enjoyable, light read."—Lutheran Ladies Connection

"A literary cartographer would find it necessary to trace, in forceful blue lines, tributary streams running from Mark Twain and Sherwood Anderson to the Wobegonian river of stories and novels that has issued from Garrison Keillor for more than twenty years."—Chicago Tribune

"Keillor is very clearly a genius. His range and stamina alone are incredible—after 30 years, he rarely repeats himself—and he has the genuine wisdom of a Cosby or Mark Twain. He's consistently funny about Midwestern fatalism . . . and he's a masterful storyteller."—Sam Anderson, Slate

"Keillor has always been a great cataloger, equal parts Homer and Montgomery Ward, . . . as aware of life's betrayals and griefs as [he] is of the grace notes and buffooneries that leaven everyday existence. Keillor's Lake Wobegon books have become a set of synoptic gospels, full of wistfulness and futility yet somehow spangled with hope."—Thomas Mallon, New York Times Book Review

"People who don't listen to his show much think it's homespun olde-timey stories. They don't hear the variety and dark emotion and ambition in what he's doing. It's like they buy the packaging without noticing the complicated product he's actually making."—Ira Glass, creator and host of This American Life, quoted in the Chicago Tribune