Caedere: Killer Kids (Caedere: to cut down, strike, kill, beat; to kill self): A short story of why kids kill. (GREEK/LATIN) Pa (Paperback)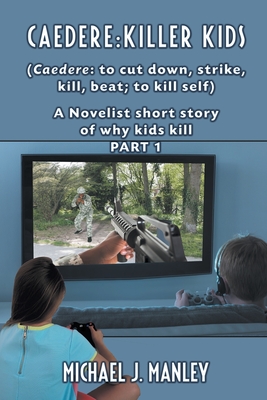 $10.95

Usually arrives at our store in 2-8 business days.
Description
---
Why do kids kill? Author Michael J. Manley researched the factors that play a role in this deadly phenomenon. His short story is based on research citing acclaimed forensic psychologist and researcher Marcus Martin, who explored the subject for top universities, and on material from psychological journals and news articles.
Is it caused by current events and social media, the easy availability of guns, or perhaps violent video games? Or are the killings simply hidden DNA factors?
The age-old mystery of why kids kill dates back to ancient times. The Romans trained their youth to go into battle at a young age and to fight for their lives. In today's world of video games, the author proposes that the same urge to kill is happening once again. Young minds assimilate to the killing in the gaming industry's video games just as they did when they were trained as gladiators.
What happened to the kids who didn't make it as gladiators and were sent home to their villages? Did they kill their neighbors and parents, just as today's young people mindlessly shoot others? Is history repeating itself?
Author Bio: Born in the Los Angeles community of Watts, Michael J. Manley graduated from the School of Forensic Sciences at the University of California, Berkeley, behavior science and psychology. Now retired, this is the author's ninth published novel. He doesn't just write, but researches his stories to "script" the concepts and theoretical premises of people with obstructive, compulsive behaviorism. His novels include Parlay, The Emeritus: Who Will Rule? The Tides of Time, The Gene Factor, Games of the Gods, The UBER-GROOVER, Shadow, Forward/Rewind, Still Waters Run Deep, and Caedere, all available.