The Boy Who Felt Too Much: How a Renowned Neuroscientist and His Son Changed Our View of Autism Forever (Hardcover)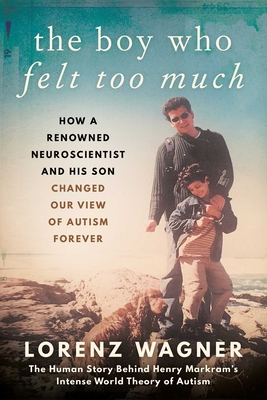 Description
---
An International Bestseller, the Story behind Henry Markram's Breakthrough Theory about Autism, and How a Family's Unconditional Love Led to a Scientific Paradigm Shift

Henry Markram is the Elon Musk of neuroscience, the man behind the billion-dollar Blue Brain Project to build a supercomputer model of the brain. He has set the goal of decoding all disturbances of the mind within a generation. This quest is personal for him. The driving force behind his grand ambition has been his son Kai, who has autism. Raising Kai made Henry Markram question all that he thought he knew about neuroscience, and then inspired his groundbreaking research that would upend the conventional wisdom about autism, expressed in his now-famous theory of Intense World Syndrome. 

When Kai was first diagnosed, his father consulted studies and experts. He knew as much about the human brain as almost anyone but still felt as helpless as any parent confronted with this condition in his child. What's more, the scientific consensus that autism was a deficit of empathy didn't mesh with Markram's experience of his son. He became convinced that the disorder, which has seen a 657 percent increase in diagnoses over the past decade, was fundamentally misunderstood. Bringing his world-class research to bear on the problem, he devised a radical new theory of the disorder: People like Kai don't feel too little; they feel too much. Their senses are too delicate for this world.
About the Author
---
Lorenz Wagner, born in 1970, is one of the most prominent profile writers and journalists in Europe. His report "The Son Code" about Henry and Kai Markram rapidly became one of the most-read articles in the Süddeutsche Magazin. Lorenz Wagner has been awarded the prestigious Prix Franco-Allemand du Journalisme (PFAJ), among other prizes. He is bilingual, French and German, lived and studied in France, and resides in Germany.
Praise For…
---
"This is a beautiful book. It will help the neurodiverse movement give these beautiful kids a bright and positive future and will have a global impact on how they are viewed, educated, and treated. It will shape their impact on the world."—Henry Markram

"Wagner does an exceptional job of mixing biography with complex yet accessible neuroscience. Essential for parents, educators, physicians, and specialists working with children of all ages."—Library Journal, starred review

"Lorenz Wagner's book on the remarkable Markrams is, well, remarkable. This is an extraordinary story of noted neuroscientists seeing the world through the eyes of their ASD son and then helping change the way autism is seen and treated far and wide. A tale of love, constancy, and groundbreaking research."—Ron Suskind, Pulitzer Prize–winning journalist and author of Life, Animated: A Story of Sidekicks, Heroes, and Autism

"A compelling story about one of the world's most brilliant researchers searching to understand his son's autism. A gloriously positive book. Left me with hope for humanity."—David Sinclair, New York Times–bestselling author; professor in the Department of Genetics and codirector of the Paul F. Glenn Center for the Biology of Aging, Harvard Medical School

"The Boy Who Felt Too Much tells the story of our accelerating understanding of autism, and it does so via fascinating characters, such as the famous neuroscientist Henry Markram, who is building a digital brain, and Dr. Markram's remarkable autistic son, Kai. It  offers a very enjoyable way for anyone to become fluent in the latest theories about autism, including why it seems so prevalent today and what can be done to minimize its most troublesome aspects. This book greatly increased my respect for the condition of autism, as well as the individuals and families who navigate life with it."—Martine Rothblatt, chief executive officer, United Therapeutics Corp 

"What is so special about this book? It brings together two worlds. Many parents will find themselves in the wonderfully, movingly told family story. At the same time, the book delves deeply into brain research. It is very competently researched, based on studies and clearly and visually told, so that everyone can understand the facts. The book is now on everyone's lips among our parents. It  offers encouragement in many places and should be read from our point of view by many parents."—AUTISM (journal of the Federal Autism Association of Germany)

"A moving father-son story interspersed combined with elegant science writing about regions of the human brain that are still terra incognita. Thoroughly researched and brilliantly written."—Weser Kurier

"A book for all those dealing with autism and those who love good writing."—Süddeutsche Zeitung

"By the end of this striking piece of reportage, you've followed not only an unusual family story but also the rigorous, deliberate, but extremely vivid search for knowledge."—Der Falter

"A wonderful book."—Anja Burri, Neue Zürcher Zeitung am Sonntag

 "A thrilling and moving book."—WDR 5

"Thank you for this really interesting and beautiful book."—SR2

"A family portrait with amazing insights."—Technology Review

"Author Lorenz Wagner has written an impressive portrait of the family with a focus on the father and has succeeded in making highly complex processes understandable to laypeople. A very interesting read."—Reutlinger General-Anzeiger

"Woven in this lively story, Wagner explains what happens in us when we feel and provides fascinating insights into the human brain. A captivating and uplifting  book."—Bild der Wissenschaft
 
"The author is really good writer. Wagner interweaves Markram's biography with intimate family sketches and passages on neuroscience and autism research."—Saarbrücker Zeitung

"The first time autism has been shown from another side."—Asperger-Autismus.ch

"Thank you for this great and extremely important book."—Ella's Blog, Living with Autism

"Wonderfully visual. There are few books that can provide both personal and scientific insight into the autism spectrum. This book is able to fill the arc of tension skillfully, excitingly, and at the same time in an entertaining fashion."—Atypical life autism blog
 
"The book is very moving and exciting and can be read like a novel. A brain researcher discovers that his child is autistic, and as readers we see how he gradually learns to deal with it. A journey into a new world."—Familylab
 
"There are two billion people on the planet who are affected by mental disorders, and the drugs that are used today are largely empirical. I think that we can come up with very concrete solutions on how to treat disorders. The mysteries of the mind can be solved—soon. Mental illness, memory, perception."—Henry Markram, TED Talk about the Blue Brain Project, 1.3 million views