Kraken Latin 2: Student Edition (Paperback)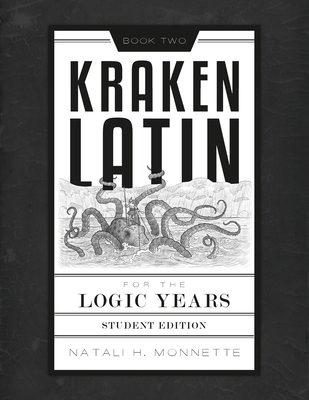 $35.10

Usually arrives at our store in 5-14 business days.
Description
---
Students in the logic stage (grades 6-8) are no longer content just to memorize chants and vocabulary-they are ready to master the systems that make Latin the most approachable of the classical languages, and to dive into the stories that make it the most legendary language.
Kraken Latin 2 contains thirty-two weeks' worth of clear teaching on deponents, impersonal verbs, subjunctives and much more, weekly worksheets and readings, English-to-Latin and Latin-to-English glossaries, reference charts for each lesson, fun activities, and much more. As she walks students through important grammar, Natali H. Monnette helps junior high students towards reading "real" Latin by integrating adaptations and translations from the Vulgate, Roman history, fun original stories, and classical myths.
If you're an older student wanting to advance from elementary studies or just to begin the study of Latin, Kraken Latin 2 was written for you.
This curriculum is perfect following any elementary program, such as the Latin Primer series by Martha Wilson.