Double Standards: The Selective Outrage of the Left (Paperback)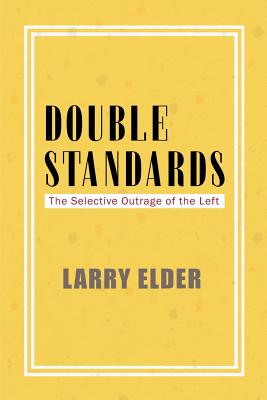 $9.99
Usually arrives at our store in 2-8 business days.
Description
---
Larry Elder calls them like he sees them. And in this collection of some of his best columns, he wields his pen against anyone who doesn't.Welfare, the Iran nuclear deal, Ferguson, the Republican primaries and the ascendancy of Donald Trump: Elder takes on a breadth of controversial issues. His incisive wit cuts right to the heart of hypocrisy in public discourse, particularly that of the left -- which taps into its "moral" outrage when it's politically expedient and becomes curiously docile when it's not."The truth will not set you free if delivered without hope," he writes in one column, quoting his late mother. Though he's not hopeful about certain politicians, Elder is fundamentally optimistic about the American people: He believes in their power to overcome almost any circumstance -- if only government would stop telling them they can't.
About the Author
---
A "firebrand libertarian" according to Daily Variety, best-selling author, radio and TV talk show host Larry Elder has a take-no-prisoners style, using such old-fashioned things as evidence and logic. Larry shines the bright light of reasoned analysis on many of the myths and hypocrisies apparent in our system of government, our society, and the media itself. He slays dragons and topples sacred cows using facts, common sense and a ready wit. Larry hosted, for 15 years, the longest-running afternoon drive-time radio show in Los Angeles, beginning in March 1994. "The Larry Elder Show," a top-rated daily program from 3 p.m. to 7 p.m. on KABC 790, became a nationally syndicated daily talk show for ABC Radio Networks on Aug. 12, 2002. Now Larry is seeking airwave dominance over the morning hours, broadcasting from KABC from 9 a.m. until noon. Known to his listeners as the "Sage From South Central," Larry sizzles on the airwaves with his thoughtful insight on the day's most provocative issues, to the delight, consternation and entertainment of his listeners. In his best-selling book "The 10 Things You Can't Say in America," Larry skewers the crippling myths that dominate the public agenda. Larry punctures all pretension, trashes accepted "wisdom" and puts everyone on notice that the status quo must be shaken up. In his second book, "Showdown: Confronting Bias, Lies and the Special Interests That Divide America," Larry again takes on the Nanny State, "victicrats" and the politically correct. His latest book, "What's Race Got to Do with It? Why it's Time to Stop the Stupidest Argument in America," is being praised as an important, groundbreaking must-read for the future of race relations in America. Elder also writes a nationally syndicated newspaper column, distributed through Creators Syndicate. Larry was also host of the television shows "Moral Court" and "The Larry Elder Show." Larry created, directed and produced his first film, "Michael & Me," a documentary that examines the use of guns in America.