Daisy to the Rescue: True Stories of Daring Dogs, Paramedic Parrots, and Other Animal Heroes (Hardcover)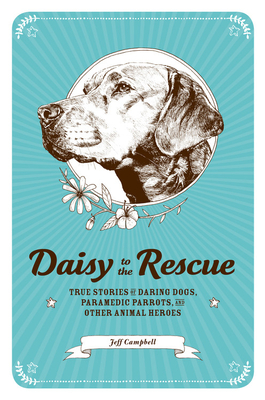 $19.79
Not currently available - email or call for details
Description
---
With their love and companionship, animals help to make our lives better every day. But sometimes, to our utter amazement and everlasting gratitude, animals literally save our lives. Daisy to the Rescue celebrates over fifty of these heroic animals with stunning illustrated portraits and detailed accounts of their exploits. The book asks important questions about why these animals act the way they do—often putting themselves in harm's way in the process.
Today, scientists vigorously debate whether other animals share our capacity for empathy, compassion, morality, and altruism, and amazing new research is continually revising our understanding of the human-animal bond. Daisy to the Rescue presents these findings and applies them to these extreme life-saving situations. Taken together, these rescue stories make a compelling case for the presence of compassion in other animals and for the vital importance of the human-animal bond.
The dramatic, moving stories in Daisy to the Rescue provide a hopeful message about our world. Not only do they contain startling evidence of the mental and emotional capacities of animals, but they also demonstrate the healing, transformative power of our intimate connection with those incredible beings with whom we share the world.
About the Author
---
Jeff Campbell, author of Daisy to the Rescue and Last of the Giants, is a writer, book editor, and part-time creative writing teacher who has enjoyed a diverse and lengthy career in publishing. He was an award-winning travel writer for Lonely Planet for over a decade, coauthoring over a dozen travel guides. As a book editor, he has specialized in nonfiction, notably helping to develop several of Dr. Marc Bekoff's books on the emotional lives of animals, which inspired his passion for writing about animals.
 
Ramsey Beyer is a comic artist and freelance illustrator living in Philadelphia. She is the author and illustrator of two autobiographical graphic novels, Little Fish: A Memoir from a Different Kind of Year (Zest, 2013), and Year One (2012). Beyer has also been published in several books, including Fanzines by Teal Triggs, Make a Zine!, and Don't Leave Your Friends Behind.
Praise For…
---
"Whether they are domestic companions, trained to serve, inspired to heal, or are found in the wild, animals have the ability to enhance our lives and even save us, and this compendium pays homage. ...Individual stories of animal derring-do, illustrated with pencil portraits, make for quick, compelling reads that prompt the reader to wonder what really goes on in an animal's head and heart. Give this to anyone from middle school to adult who shares that curiosity." -
Booklist
"All the stories are wonderful ... when starting these fifty tender stories, prepare to get teary eyed. Anyone who has ever bonded with an animal will love this book." -
Voice of Youth Advocates
"With an eye toward documenting remarkable animal/human interactions, Campbell has assembled a large collection of fascinating anecdotes. ...Overflowing with information, fascinating tales and thought-provoking information; give it to animal-loving middle graders on up." -
Kirkus Reviews
"Well-documented cases of animals rescuing men, women, and children are recounted with precision, organized into four divisions: domestic, trained, wild, and legendary animals. Campbell draws on opinions from professionals and anecdotal evidence, gleaned from ancient to modern times, to understand animal motivations. ...The text flows well, and the compact content is intense... . The documentation shines in this presentation." -
School Library Journal
"Animal lovers and anyone with a pet of his/her own will love reading these stories and the possible scientific explanations of how and why these animals saved the humans they did. From kangaroo to lion, from dolphin to dog, and from horse to hamster (there really isn't a hamster, but there is a rabbit), the stories will touch readers' hearts and stir their imagination." - The Examiner