I'm in Love with a Big Blue Frog (Hardcover)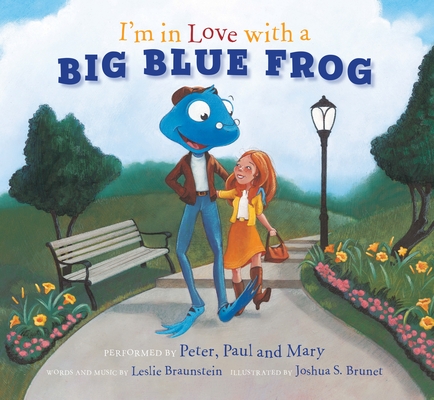 $17.95
Not currently available - email or call for details
Description
---
I'm in love with a big blue frog. A big blue frog loves me.

This is a unique offering of a book and CD recorded by Peter, Paul and Mary, based on the lively tune. Witty, wonderful, and slyly fun, the song "I'm in Love with a Big Blue Frog" was a huge hit for Peter, Paul and Mary in 1967, and has been a favorite in classrooms, camps, and sing-alongs ever since. Not only do children delight in the playful tune, but adults also embrace its lyrics, which gently send a message of tolerance in the most light-hearted, humorous way. As this one-of-a-kind couple shows, being a little unconventional can be a beautiful thing. Artist Joshua S. Brunet creates an amusing and lively world, filled with an unforgettable cast of characters.
About the Author
---
Peter, Paul and Mary became famous for their ability to convey powerful personal and political messages through a repertoire of songs that resonated with millions of Americans in the 1960s. Their debut album, released in 1962, remained in the Top 10 for ten months, and the Top 20 for two years. Their first hit single, "Lemon Tree" was swiftly followed by "If I Had a Hammer," which became an anthem of the Civil Rights movement and was performed by the trio at the 1963 March on Washington where Dr. Martin Luther King, Jr. delivered his legendary "I Have a Dream" speech. Their classic song, "Puff, The Magic Dragon," has been a favorite of children for almost fifty years, and the book version was a number one bestseller. Over a span of more than fifty years, Peter, Paul and Mary touched the lives and hearts of tens of millions of people, won five Grammy Awards, produced thirteen Top 40 hits, and received eight gold and five platinum albums.