The Comprehensive Air Fryer Cookbook For Beginners: Delicious, Healthy And Easy To Make Air Fryer Recipe For Family And Friends (Hardcover)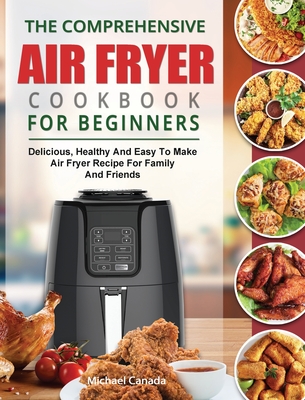 $32.39
Not currently available - email or call for details
Description
---
Have you got an air fryer?
Are you wondering what's good to cook in the Air Fryer? And how can you cook food to perfection in your air fryer?
Then keep reading this book is worth your time.
You weren't expecting to fall in love with the air fryer, but you'll be pleasantly surprised once you try it out. Yes, reducing the amount of oil makes it much easier to consume healthier food. Get ready to cook and bake like a professional chef and get your meals ready in a lesser time.
The air fryer is a perfect way to enjoy favorite foods like steaks, French fries, roasted veggies, and much more without the added calories, fats, or chemicals.
This book contains the following contents:
Basics of Air Fryer and General Tips
Benefits of Air Fryer
Breakfast Recipes with Air Fryer
Chicken, Meat, Fish, and Seafood Recipes with Air Fryer
Dessert and Snack Recipes with Air Fryer
If you want to know anything regarding air fryers, this book will surely help you.