Bridging the Race and Gender Gaps: Representation of Women andMinorities among MacArthur Fellows, 1981-2018 (Paperback)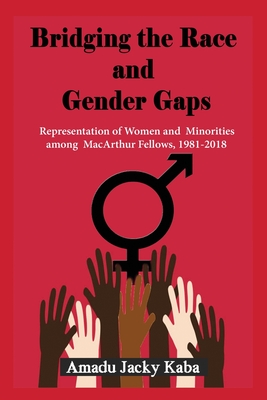 $22.48
Usually arrives at our store in 2-8 business days.
Description
---
Bridging the race and Gender gaps examines the gradual increase of women and minorities among MacArthur Fellows from 1981 to 2018. The book shows that while men continue to be in the majority, women have been closing the gap, especially in the past decade. It also shows that while White Fellows (including those with ancestry from Western or Central Asia, not just Europe) continue to be dominant, minorities have increased their share among all Fellows, with Black men, Asian men, and Native American women having higher proportions than their adult proportions in the United States. The gender gap is however not closing as rapidly as the race gap. The book tries to account for the gaps between race and gender among the MacArthur fellows, and why they are bridging at different paces.
___________________________
Amadu Jacky Kaba is Professor of Sociology at Seton Hall University, in the Department of Sociology, Anthropology and Social Work. He has some 80 scholarly publications, including seven books and 58 full-length scholarly journal articles. Prior to returning to Seton Hall University in 2005, he worked with the late renowned political scientist, Professor Ali A. Mazrui (Post-Doctoral Fellowship), teaching and conducting research in the Social Sciences both at Binghamton University, State University of New York, and Cornell University in Ithaca, New York, from July 2002 to June 30, 2005. Kaba earned all of his degrees from Seton Hall University: B.A. in Political Science in 1997; Master's degree in Public Administration in 1998; and Ph.D. in Higher Education Leadership, Management and Policy in May 2002.