Truth to Power: How to Call Time on Bullsh*t, Speak Up & Make a Difference (Paperback)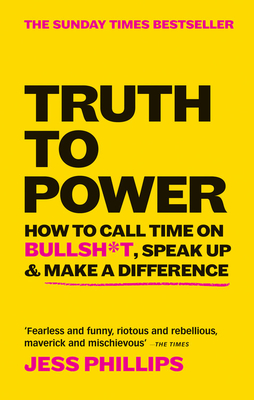 $14.99
Not currently available - email or call for details
Description
---
YOU HAVE MORE POWER THAN YOU THINK.

At a time when many of us feel the world isn't listening, Jess Phillips offers inspiration to those of us who want to speak out and make a difference.

No stranger to speaking truth to power herself, she will help you dig deep and get organised, finding the courage and the tools you need to take action.

As well as bringing us hope through her own experiences, Jess talks to the accidental heroes who have been brave enough to risk everything, become whistle-blowers and successfully fight back.

Zelda Perkins, the personal assistant who first called-out Harvey Weinstein;
Paul Caruana Galizia, son of murdered Maltese journalist Daphne Caruana Galizia;
Tom Watson the British MP who successfully took on the Murdoch press empire and won;
Natasha Elcock, resident of Grenfell Tower and chair of Grenfell United, the pressure group set up by families after the disaster;
Cara Sanquest from the campaign to legalise women's right to choose abortion in Ireland.

Entertaining, empowering and uncompromising, TRUTH TO POWER is the book we all need to help us call time on the seemingly unstoppable tide of bullshit in our lives.
About the Author
---
JESS PHILLIPS was first elected as the Labour MP for Birmingham Yardley in 2015, before being re-elected in 2017. She was elected chair of the Women's Parliamentary Labour Party in September 2016. Before becoming an MP, Jess worked with victims of domestic violence, sexual violence and human trafficking, and she continues to speak up on behalf of those who struggle to have their voice heard.

Jess has worked with the Home Office, the Ministry of Justice and the Department for Communities and Local Government on issues of Violence Against Women and Girls. She is one of the women who launched the #NotTheCost campaign to combat the violence faced by politically active women, and the Reclaim the Internet campaign, which challenges online abuse.

Jess lives with her husband and two sons in Birmingham, England, where she was born and raised.