Saskatchewan: A New History (Hardcover)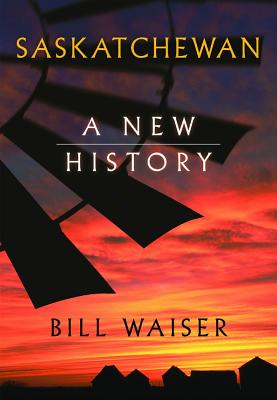 $47.25
Not currently available - email or call for details
Description
---
In Saskatchewan: A New History, award-winning author and historian Bill Waiser presents a fresh, entertaining account and interpretation of Saskatchewan's unique and captivating history. Writing with clarity, candor, and compassion, Waiser describes in detail his province and its people through the stimulating, often tumultuous years since joining Confederation in 1905.
A gift to the province from the University of Saskatchewan, written in commemoration of the province's centennial celebrations in 2005, Saskatchewan: A New History tells, above all, the engaging stories of the people of Saskatchewan. Their wisdom, foresight, bravery, toil, and eternal optimism gave birth to one hundred years of extraordinary history.
Waiser leaves no stone unturned as he records the events and stories of the people who experienced them: from the province's earliest days, when anything seemed possible; through the years of the Great Depression, when the prospect of greatness seemed all but lost; to the second half of the century, when an intense, at times bitter, debate raged over how best to govern Saskatchewan. Relying on the most up-to-date historical research available, he offers new perspectives on traditional views and tackles previously neglected, often difficult, concepts and events.
"What is most striking about these images, aside from the richness of their color and the skillful use of light, are the happy, smiling faces. He could see things like no one else with a camera. He had an uncanny skill to set the scene. He caught people in everyday life and everyday activities and people wanted to have their picture taken by him."
Generously illustrated with carefully selected archival images and two sixteen-page color inserts of commissioned photographs by Saskatoon's John Perret, Saskatchewan: A New History also pays a stunning visual tribute to the historical, urban, and natural splendour of Saskatchewan and its people.
Includes: two 16-page color photo inserts by John Perret, 205 Black and White photographs and illustrations, 20 reference tables, 15 maps . . . and more.
Saskatchewan Book Award for Non-Fiction nominee, 2005
Saskatchewan Book Award for Scholarly Writing nominee, 2005
About the Author
---
Bill Waiser is the author, co-author or co-editor of eight books, including Park Prisoners: The Untold Story of Western Canada's National Parks and Loyal Till Death: Indians and the North-West Rebellion, a finalist for the Governor General's non-fiction literary award. His book, All Hell Can't Stop Us: The On-to-Ottawa Trek and Regina Riot, won the 2003 Saskatchewan Book Non-Fiction Award. He has served on the Canadian Historical Association and Canada's National History Society.