The Witches' Almanac 2021-2022 Standard Edition: The Sun – Rays of Hope (Paperback)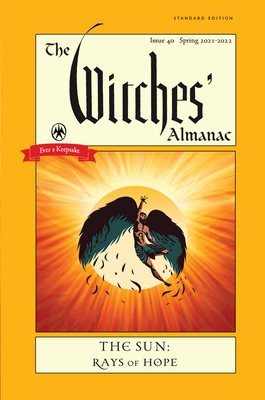 $15.95
Not currently available - email or call for details
Description
---
Founded in 1971 by Elizabeth Pepper, the art director of Gourmet magazine for many years, The Witches' Almanac is a witty, literary publication that appeals to general readers as well as hard-core Wiccans. At one level, it is a pop reference that will fascinate anyone interested in folklore, mythology, and culture; but at another, it is the most sophisticated and wide-ranging annual guide available today for the mystic enthusiast.
Modeled after the Old Farmers' Almanac, it includes information related to the annual Moon Calendar (weather forecasts and horoscopes), as well as legends, rituals, herbal secrets, mystic incantations, interviews, and curious tales of good and evil. Although it is an annual publication, much of the content is both timely and timeless—non-specific to the date range of each issue.
The theme of Issue 40 (Spring 2021–Spring 2022) is "The Sun—Rays of Hope." The following articles are also included:
"Mithras: Comrade of the Sun, Savior of Soldiers"
"Tell the Bees"
"Exploring and Embracing the Fluid Gender and Sexuality of Witch-Gods"
"Bringing Fairies Back to Your Home"
And much more
About the Author
---
Theitic is a prominent member of the New England pagan community. He became editor/publisher of The Witches' Almanac Ltd. upon the death of founder Elizabeth Pepper in 2005. He lives in Rhode Island.