College for Students with Disabilities: We Do Belong (Paperback)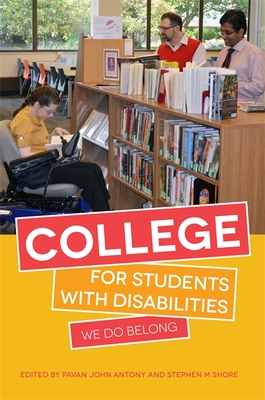 $35.04
Not currently available - email or call for details
Description
---
Sharing the personal stories of individuals with disabilities who describe both the challenges and successes of their time in higher education, and with a major section on the findings of broad ranging research into the experiences of such students, the book explores the current situation, what works, and how things can be improved.
You are not college material or you don't belong in college are comments frequently heard by students with disabilities. Despite this, college education is now an expected part of the transition to adulthood for many individuals with disabilities. The book includes practical advice to encourage self-advocacy in students with disabilities, and to support the professionals who are facing the challenges alongside them. Covering cerebral palsy, autism spectrum disorders, intellectual disabilities, and much more, this is vital reading for parents, individuals with disabilities, school teachers, college professors, and professionals working with adults with disabilities.
About the Author
---
Dr. Pavan John Antony has over ten years of work experience in the field of special education and is currently an Assistant Professor in Special Education at Adelphi University, New York. Prior to this, he was actively involved in working with adults with disabilities transitioning from high school, working with them in the community and in their group homes. Since Spring 2013, he has been studying the experiences of individuals with Cerebral Palsy who attended college. He also worked with children and adults with disabilities in South India for over five years. Dr. Antony has published several articles, regularly presents at national and international conferences and also serves as a reviewer for four peer reviewed journals. Dr. Stephen Shore is Assistant Professor in Special Education at Adelphi University, New York, where his research focuses on matching best practice to the needs of people with autism, as well as promoting successful transition to adulthood for this population. Diagnosed with "atypical development and strong autistic tendencies" and nonverbal until age four, Dr. Shore now presents and consults internationally on issues pertinent to individuals on the autism spectrum. He is President Emeritus of the Asperger's Association of New England and serves on the boards of the Asperger Syndrome and High Functioning Autism Association and the Autism Services Association.