COSORI Air Fryer Toaster Oven Combo Cookbook for Beginners: 1000-Day of Crispy, Fresh & Healthy Recipes for Quick & Hassle-Free Meals - Anyone Can Coo (Paperback)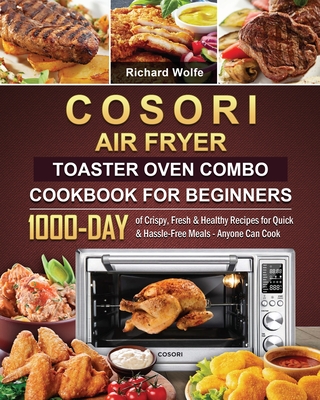 $18.89

Usually arrives at our store in 5-14 business days.
Description
---
This COSORI Air Fryer Toaster Oven Combo Cookbook for Beginners turns your oven into an all-purpose cooking machine. Here's how to bake, grill and roast with your Air Fryer Toaster Combo
This COSORI Air Fryer Toaster Oven Combo is easy to use and versatile. It is 100% better than the conventional oven because of its flexibility and uniqueness.
This cookbook has provided everything you should know about this smart oven. The guide contains amazing collections of delicious, flavored, easy and healthy recipes that are well prepared.
The nutritional compositions, ingredients, servings and preparations of each recipe are fully explained. You will get to know useful hints and tips on how to operate and cook with the oven, including basic safety precautions you must take.
In this book, you will:
Learn How to Cook Delicious and Creative Dishes saving on meal preparation times because the use times are reduced.
Find 1000-Day New, Delicious, and Easy-to-Make Recipes always to enjoy family and friends with new dishes, whether for breakfast, lunch, dinner, or even a snack or appetizers.
Be Able to Suggest New Ideas to Friends, inviting them to dinner and making them try the tasty flavor of a recipe cooked with your Air Fryer Toaster Combo.
Hope you have a happy eating time with your family.