NeuroHabist: Toughness Handbook: A Step-By-Step Guide to Facing Life's Challenges, Managing Negative Emotions, and Overcoming Adver (Paperback)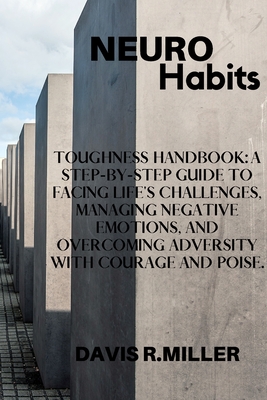 $31.99
Email or call for availability
Description
---
you discount everything for bookstores 55% off buy don't waste time, for a limited time from $31.99 to $18.99. Bravely endure difficulties, perform under pressure, and overcome challenges more easily than you ever thought possible
Do you feel overwhelmed by your circumstances? Are you exhausted and overloaded with stress? Are you tempted to give up every time you encounter obstacles and setbacks?
Imagine bravely facing every challenge that comes your way. Imagine facing any problem you come across and solving it with confidence.
Imagine being 100% confident that you can handle any difficulty or setback that life throws your way.
You'll learn how to persevere when life gets difficult and circumstances deviate from your plans. You'll discover how to handle pressure, control your impulses, and endure the emotional and psychological distress that accompanies bad luck.
Most importantly, you'll learn how to achieve more than you thought possible through sheer tenacity and determination.
In this amazing book, you will discover:
how mental toughness differs from grit (many people mistakenly think they are the same thing)
the 7 main traits that mentally tough people adopt to conquer any problem they encounter
how mental toughness is closely tied to emotional mastery (as well as the importance of self-awareness and empathy)
5 daily habits you need to embrace to strengthen your mind and harden your resolve
Why willpower and motivation are unreliable (and how mental toughness trumps both )
5 simple tips to control your impulses and delay gratification
Plus, you'll receive 18 EXERCISES that will help you apply the tips and tactics you'll learn in this book
If you're tired of feeling like you're giving up when life gets tough, get your copy today Start training your mind to withstand stress and pressure, face adversity with courage, and weather any storm with courage.
Buy it now and let your clients become addicted to this incredible book.