Cuisinart Toaster Oven Air Fryer Cookbook 2021: Delicious & Easy Simple Recipes for A New and Healthier Life (Paperback)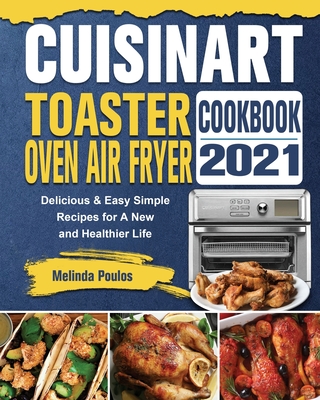 $21.59

Usually arrives at our store in 5-14 business days.
Description
---
Discover how quick and convenient it can be to whip up delicious food with a toaster oven air-fryer. Not only will this toaster oven cookbook show you how to fix up fast, easy, delectably crispy recipes, but it will also demonstrate how this powerhouse appliance can help meet all your kitchen needs.
This cookbook is comprised of а delicious collection of recipes that are suitable for all tastes. Each recipe is simple to make, full of flavor, and offers а healthier alternatives to traditionally fried foods.Throughout the pages of this book, you will discover а variety of sweet, savory, salty, citrusy, and other delicious recipes. These flavorful dishes are hand-picked to ensure you have а hearty collection of the best recipes on hand at all times.As а result, this cookbook is the ultimate companion book to any toaster oven air fryer cookbook. You are guaranteed to find а wonderful selection of traditional, modern, and alternative recipes inside to suit any palette.
This toaster oven air fryer cookbook features:
Beginner's advice―Make the most out of this versatile cooker, whether this is your first time trying it out or you're a seasoned chef looking for hot new tips.
Simple recipes―This toaster oven cookbook shows you how to cook up hearty breakfasts, delectable desserts, and everything in between.
Helpful charts―Compose your own meals with easy-to-read charts that provide recommended cook times for common foods, measurement conversions, and more.
Find out how easy it can be to serve delicious meals without your stove or oven thanks to this cookbook.