Air Fryer Black+Decker Toaster Oven Cookbook 2021: Tasty and Unique Recipes for Quick and Easy Meals (Paperback)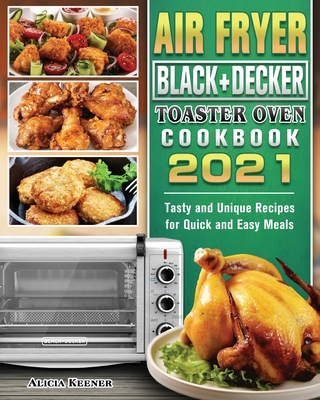 $24.69
Not currently available - email or call for details
Description
---
All the Fried Food You Love... without fat and healthy Guilt
Are you ready to make the most delicious and mouthwatering air fried meals ever?
Do you want to provide your family with healthier meal on a budget?
With this Air Fryer Black+Decker Toaster Oven Cookbook 2021, you don't need to sacrifice flavor when trying to eat healthier. different basic and simple air fryer recipes are provided in this cookbook, so you can cook in your own kitchen easily, because these recipes will instruct you step by step, so that you can understand the process quickly. The recipes we selected are simple to cook even for people who has never entered into kitchen.
Here's some information of what you'll get from this book:
Air Fryer Black+Decker Toaster Oven Cookbook 2021: Teach Your Cooking With These Easy and Healthy Recipes explains how this cookbook gives you all the tastiness and flavor of fried food with healthy cooking.
This book will introduce pro-steps and amazing meals with complete ease. Get ready to enjoy a wealth of delicious recipes with your Black+Decker
When you incorporate Black and Decker air fried food into your everyday life, you'll be amazed at the positive changes and health benefits you will experience. By avoiding unhealthy oils, you can improve your body healthy and lose your weight quickly.
Just do it Start your healthy meals in no time