No Nonsense Spanish Workbook: Grammar Lessons and Practice Activities from Beginner to Advanced Intermediate Levels. Captivating Short Stories to Le (Paperback)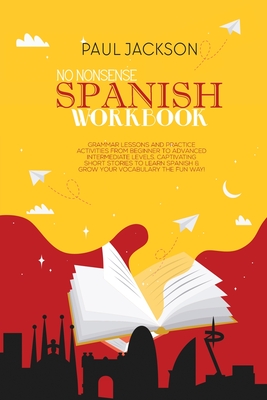 $22.97
Not currently available - email or call for details
Description
---
Have you ever asked yourself why should you learn Spanish? Spanish is one of the three most spoken languages in the world. Even if you live in a place where everyone speaks English, you will need Spanish sometimes. If you plan to travel to a Spanish-speaking country, you will need to learn the basics to enjoy your trip to the fullest.
You will start from scratch and work your way from zero to fluent in 33 lessons where you will learn the basics of everyday Spanish-the real stuff that you will need when you go on a trip to South America or Spain.
Spanish is the official language of twenty countries. Around 400 million people speak it Not only is it one of the most spoken languages in the world, but Spanish is also one of the most studied... by you and many others like you
And it can be a real asset-since so many people speak and study the language nowadays, even in the corporate and academic worlds. On top of that, having friends in Latin America or Spain is something you will never regret if you love travelling.
For this reason, thinking about your valuable time, I have decided to create this book which is designed to learn a little Spanish everyday in just a few minutes
Do not wait any longer, start now and you ll see that thanks to this guide, it has never been so pleasant and easy to learn a new language and improve your grammar skill.
Once you are fluent in Spanish, you will find a door to a whole new cultural world. For example, you will be able to read books in Spanish that are not yet translated to your language, or you will be able to pop into any cinema in Latin America and enjoy a good local movie without subtitles.
Through this book will not only teach you the rules of Spanish grammar and vocabulary, but it will give you a sense of the soul and music of the Spanish language. You will have a solid beginner's foundation of Spanish; with phrases you can use to navigate social situations and help you make friends and connections.
After you are done with this book, you will be ready to travel, immerse yourself in the Spanish-speaking cultures, read fiction and newspapers in Spanish, watch films, eat Latin American and Spanish food and learn the recipes, make Spanish-speaking friends, and, most importantly, enjoy yourself This book is inspiring and vibrant to read and listen to, motivating you to speak and embrace the Spanish language, no matter how new you are to it.
So, do take this opportunity to continue building on your current skills. You will find that over time, you will progressively gain more and more understanding of the language you encounter on a daily basis.
This book covers:
How to Learn a New Language
The Fundamentals of Spanish
Basic Spanish Words and Phrases
The Alphabet
Pronunciation
Syllabication
Stress and Accents
The Use of Numbers, Colors, Time and Feelings
Nouns, Articles, and Adjectives
Plurals
Pronouns
Verbs
Ser and Estar
Question Formation
Adverbs, Prepositions, and Conjunctions
Forming Sentences
The Imperative and Subjunctive Moods
Making Comparisons
Short Stories
And much more
You will Never Stop Using this Awesome book
Buy it NOW and get addicted to this amazing book