Crock-Pot Dutch Oven Cookbook: 250 Delicious, Quick, Healthy, and Easy to Follow Recipes to Kick Start A Healthy Lifestyle (Hardcover)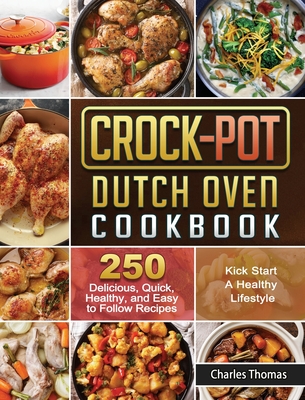 $35.09
Not currently available - email or call for details
Description
---
Have you ever imagined the cooking could be made even simpler?
Have you ever thought you also can cook elegant serving pieces by using the Dutch Oven?
The Easy Dutch Oven Cookbook delivers an easy way to mouth-watering meals.
Learn how to put your Dutch oven to work every day in so many different ways. Turn out practical yet fun meals made entirely in one pot, such as Weeknight Pasta Bolognese; Chicken Pot Pie with Spring Vegetables; and Lamb Meatballs with Orzo, Tomatoes, and Feta. Impressive braises and roasts, such as Braised Short Ribs with Wild Mushroom Farrotto and Roasted Pork Loin with Barley, Butternut Squash, and Swiss Chard, go seamlessly from the stovetop (the enameled surface makes it easy to create fond without burning) to the oven (cast iron maintains steady heat to ensure food cooks perfectly). We even walk you through deep frying and artisanal bread baking at home (try the Korean Fried Chicken Wings or the Braided Chocolate Babka). And a range of appealing desserts, from Pear-Ginger Crisp (the pot holds a generous 5 pounds of pears) to Bourbon-Pecan Bread Pudding, benefit from the Dutch oven's high sides and even heating.
This great cookbook has helped thousands and thousands of cookers as well as housewife to serve up simple but tasty cuisines every day.
Waste no time in taking a dive into this detailed and versatile cookbook full of delicious recipes waiting for you to try out.