Dance for Joy: An Illustrated Celebration of Moving to Music (Hardcover)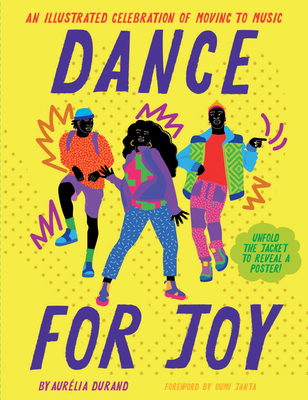 $18.95
Not currently available - email or call for details
Description
---
A vibrantly illustrated and inclusive celebration of dance in all its styles, moods, and meanings.
Dance can be radical self-expression, community celebration, revolutionary protest, or pure elation. Whether you're a professional ballet dancer or the first person on the dance floor at parties, whether you dance in your living room or out in the streets, you know the power of moving to music. Artist and author Aurélia Durand bottles the lightning of dance in these vibrantly illustrated pages. You're invited to embark on a world tour of styles, explore a who's-who of iconic and inspiring dancers, and celebrate all the amazing ways movement can make you feel: empowered, fabulous, free. With joyful affirmations and playful interactive content, this book brings together culture, history, and neon illustrations that practically dance off the page. A foreword by popular jam skater Oumi Janta reflects on the magic of Durand's artwork. This is for anyone who feels a rhythm and the need to move with it. 
STAR ILLUSTRATOR: From illustrating the New York Times-bestselling
This Book Is Anti-Racist
, to delivering a keynote slot at Adobe Max, Aurélia Durand captures the zeitgeist in bold shape and color. She's an ambitious and multitalented artist, poised to move hearts and minds with her first authored book and an accompanying stationery line. 
INCLUSIVE AND EMPOWERING MESSAGE: This book weaves together movement traditions from around the world, offering a truly inclusive vision, and highlights all the ways that dance intersects with liberation and empowerment. 
A NEW GENERATION OF DANCERS: Online platforms like Tiktok have ushered in a new era for dance, with challenges going viral and new styles being shared around the world. Durand's uplifting images are perfectly pitched for those who have discovered a new passion for expressing themselves through movement online. 
Perfect for:
Dancers and dance lovers
Aurélia Durand and Oumi Janta fans
People passionate about inclusivity and joyful activism
People seeking to celebrate Black excellence
Creatives of all types
Fans of Tiktok dance videos
About the Author
---
Aurélia Durand is an artist, illustrator, animator, and muralist. Her books include This Book Is Anti-Racist. She lives in Paris.
 
Oumi Janta is a jam skater based in Berlin.