Cat Pet Health Record: Cat Vaccination Record and Shot Log Book, Complete Kitten and Cat Immunization Schedule and Record (Paperback)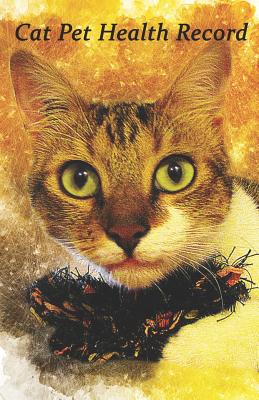 $5.99
Usually arrives at our store in 2-8 business days.
Description
---
Cat Vaccination Record and Shot Schedule
🐱 Stunning cover design
🐱 Detailed routine cat booster vaccination and shot schedule and guide
🐱 One page per visit to track and record all vet appointments
🐱 Poison Helpline emergency phone numbers
🐱 Detailed information page about your pet to give to cat sitters
🐱 Handy space to stick labels your cats photo
🐱 5.5" wide x 8.5" high
🐱 Ideal gift for cat lovers for any occasion including Christmas, Birthday, Mothers day, Thank You, Fathers day, or other event
Do you struggle to remember when your kitten or cat last had shots?
Are you overwhelmed by the number of vaccinations that your cat needs?
Do you want to get your cats health organized?
We have the perfect
Cat Pet Health and Vaccination Record Book
for you so you always keep track of which shots your pet has had and which are needed, and which interventions you pet has had at the Vet.
Why Choose Our Cat Vaccination Record Book
FULL CAT VACCINATION SCHEDULE CHART
- Keep your best friend safe by staying on top of the initial and booster shots needed With our Shots timeline you will feel safe in your pet health management
GORGEOUS COVER DESIGN
- Yes, we know you don't judge a book by its cover - but this book will spark joy whenever you take it out. We have a range of beautiful cat covers for you to choose from
PET PHOTO
- We included a space for you to stick a photo of your cat, great for pet sitters
SPACE FOR NOTES
- It's not just the schedule of vaccinations and records, it's also about what test the Vet did and what medications are recommended. Keep a full and complete record of what happens at each Vets appointment
DETAILED RECORD PAGES
- Each vet visit has one full dedicated page to record the reason for the visit, any test done, diagnosis if relevant and medications
PERFECT SIZE
- at 5.5 x 8.5" (13.97 x 21.59 cm) it is a convenient size to comfortably fit into a bag. Take it with you when you go to the Vet for any reason. Share it with your pet sitter to ensure trouble free sitting
DELIGHTFUL GIFT
- Whatever the event our Pet Health Logbook makes an ideal gift for Cat owners and Cat lovers including: Christmas, Birthday, Mothers day, Thank You, Fathers day
Joy for All Art designs and creates unique outstanding notebooks, log books, planners, journals and wall art for thoughtful and caring gifts for all the important people in your life including you
If you love this Cat Vaccination Record check out my other Journals, Notebooks and Wall Art. Just search Amazon for Joy For All Art Journal or Joy For All Art Wall Art