The Ballad of Halo Jones: Full Colour Omnibus Edition (Hardcover)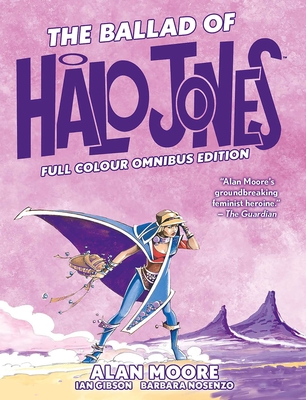 $49.99

Usually arrives at our store in 5-14 business days.
Other Books in Series
Description
---
Alan Moore and Ian Gibson's groundbreaking feminist icon is celebrated in this stunning, lavish, full colour omnibus, featuring bonus content!

The ultimate edition of Alan Moore and Ian Gibson's feminist space opera!

Halo Jones is bored. Trapped in The Hoop, a futuristic world where jobs are scarce and excitement non-existent, Halo sets out to see the galaxy any way she can and to rewrite her destiny. From drudge work on a glamorous cruise liner, to serving in a brutal war zone, Halo experiences love and loss and she grows up into the woman who will change the course of the galaxy's history.

Radical and revolutionary, Rebellion is proud to present Alan Moore (Watchmen, V for Vendetta) and Ian Gibson's (Star Wars: Boba Fett Adventures) ground-breaking feminist space opera and science fiction classic in a full colour omnibus for the first time. A cultural icon and a high mark for British science fiction, this timeless tale of one woman's endurance amidst a sea of dead-end and deadly jobs remains one of Alan Moore's most beloved sagas. Restored and lovingly coloured by Barbara Nosenzo, and featuring a new introduction and bonus content, The Ballad of Halo Jones remains essential reading.


About the Author
---
Perhaps the most widely respected comic writer of the modern era, Alan Moore's contribution to the comics world is incalculable. Creator of some of 2000 AD's most popular series, including Abelard Snazz, The Ballad of Halo Jones, D.R. & Quinch and Skizz, he has also worked on A.B.C. Warriors, Ro-Busters, Rogue Trooper, Ro-Jaws' Robo-Tales, Tharg the Mighty, Time Twisters and several one-off strips. Outside of the Galaxy's Greatest Comic, Moore is best known for his work on the classic Watchmen, which redefined the superhero genre in 1986, but this is simply touching the surface of a career which has included 1963, A1's Warpsmiths, Bojeffries Saga and Maxwell the Magic Cat, AARGH!, Batman, Big Numbers, Brought to Light, Captain Britain, Deathblow, Flesh and Bones, From Hell, Glory, Green Lantern Corps, Lost Girls, Miracleman, A Small Killing, Snakes and Ladders, Spawn, Supreme, Swamp Thing, Superman , V For Vendetta, WildC.A.T.S. and Youngblood. Moore is now owner and chief writer of the America's Best Comics line, distributed by WildStorm, and including Promethea, Tom Strong, Tomorrow Stories, Top Ten and The League of Extraordinary Gentlemen, which has been made into a major Hollywood movie.

One of 2000 AD's best-loved and most honoured artists, Ian Gibson is responsible for the co-creation of The Ballad of Halo Jones (with Alan Moore), and created Bella Bagley, an unfortunate character in Judge Dredd's world who fell head-over-heels in love with 'Old Stoney Face' himself! His work outside the Galaxy's Greatest Comic includes Chronicles of Genghis Grimtoad, Star Wars: Boba Fett, X-Men Unlimited, plus the designs for the TV series Reboot.
Praise For…
---
Praise for The Ballad of Halo Jones:

"One of the first great comics... up there with Watchmen, V For Vendetta, Dark Knight... The things that we talk about when we talk about comics, Halo Jones should have been one of them." - Neil Gaiman.
"The story of an ordinary woman, not a superhero or special snowflake, but a woman who made her own story... a character that represented the everywoman...The Ballad of Halo Jones broke the mould... remarkably timeless" - The Independent
"Groundbreaking feminist heroine... one of the comic industry's strongest role models" -The Guardian
"Exponentially cooler than knock-offs like Tank Girl, mostly because she remains a fed-up real person amid the wild space opera of her universe" - Empire
"Halo Jones was my first love. Or maybe my first role model. The girl that got out." - Lauren Beukes
"Still ahead of the pack... it remains a work of powerful emotional impact" - Multiversity Comics
"Radical and progressive" - Women Write About Comics
"War, romance, hope and feminism... relatable and arresting" - Doom Rocket
"Alan Moore's greatest comic book creation... a superb character study, an especially important book for teenage girls to read. In a world of increasing insecurity, not only politically but personally (body image, place in society, material wealth, sense of self), Halo Jones offers a critique of, and a refuge from, the absurdities of an uncertain world." - Tribe
"Revolutionary" - Mookychick

"One of the first great comics... up there with Watchmen, V For Vendetta, Dark Knight... The things that we talk about when we talk about comics, Halo Jones should have been one of them." - Neil Gaiman.

"The story of an ordinary woman, not a superhero or special snowflake, but a woman who made her own story... a character that represented the everywoman...The Ballad of Halo Jones broke the mould... remarkably timeless" - The Independent

"Groundbreaking feminist heroine... one of the comic industry's strongest role models" -The Guardian

"Exponentially cooler than knock-offs like Tank Girl, mostly because she remains a fed-up real person amid the wild space opera of her universe" - Empire

"Halo Jones was my first love. Or maybe my first role model. The girl that got out." - Lauren Beukes

"Still ahead of the pack... it remains a work of powerful emotional impact" - Multiversity Comics

"Radical and progressive" - Women Write About Comics

"War, romance, hope and feminism... relatable and arresting" - Doom Rocket

"Alan Moore's greatest comic book creation... a superb character study, an especially important book for teenage girls to read. In a world of increasing insecurity, not only politically but personally (body image, place in society, material wealth, sense of self), Halo Jones offers a critique of, and a refuge from, the absurdities of an uncertain world." - Tribe

"Revolutionary" - Mookychick