Tava: Eastern European Baking and Desserts From Romania & Beyond (Hardcover)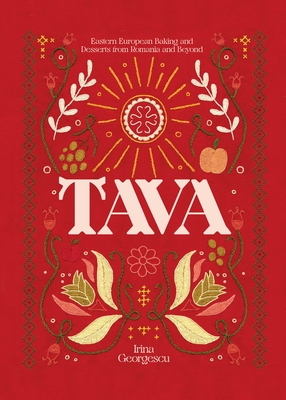 $42.00

Usually arrives at our store in 5-14 business days.
Description
---
WINNER OF THE 2023 JAMES BEARD AWARD FOR BEST BAKING AND DESSERTS BOOK
 
"A joy and an education. Irina Georgescu has disentangled the strands woven into Romanian cooking and identity and she has done so deliciously, through glorious cakes, pies, strudels and doughnuts. Cook, eat, learn." – Diana Henry
 
"I am such a huge admirer of Irina Georgescu in general, and of this extraordinarily impressive and important book in particular. A must-have, not just for enquiring bakers but, crucially, for all those interested in the context and evolution of culinary culture." – Nigella Lawson
 
Tava is a meticulously researched baking book celebrating centuries of diversity and overlapping cultures that form today's cuisine in Romania. The author's aim is to also share the story of those dishes that have come to represent the identity of different cultural communities across the country.
 
Tava means tray in Romanian, a metaphor for how a whole culinary landscape is presented to the reader.
 
You will find Armenian pakhlava, Saxon plum pies, Swabian poppyseed crescents, Jewish fritters, and Hungarian langoși alongside plăcinte pies, alivenci corn cake, strudels and fruit dumplings. Rice or pearl barley puddings, donuts and gingerbread cookies come with their own story, while chocolate mousses, meringues in custard sauce and coffee ice cream introduce you to the glamour of famous Romanian and Eastern European pastry shops.
 
The book is written with integrity and respect towards this rich heritage connecting the past with a present which can be encountered by the reader when travelling in Romania. The recipes are easy to follow, beautifully photographed, and tempt the reader to embrace the unfamiliar as much as the familiar, while enjoying their comforting and homely feel.
About the Author
---
Irina Georgescu is a Romanian food writer and author of Carpathia, a book that celebrates Romanian home cooking. Irina's recipes draw on her Eastern European heritage—she has always felt very strongly about exploring the world through food and understanding people through what they eat. Her love and commitment to talking about Romanian culinary traditions encouraged her to pursue her dream to write about Romania, its food, and its heritage.
Praise For…
---
"What a transporting cookbook Tava is! Here are tempting recipes for Romanian cakes, pastries, biscuits and other treats made using delightful ingredients such as rose petals, chestnuts, walnuts, sour cherries and poppy seeds. Importantly - and evocatively - Irina Georgescu sets the rich tapestry of Romanian baking in a historic and social context, giving readers an insight into what has shaped and influenced Romanian cuisine." --Jenny Linford
"I love Irina Georgescu's writing. Carpathia was one of my favourite books of 2020 and Tava is equally exciting: a celebration of Romanian baking that is full of a sense of light and life. Matt Russell's photography is gorgeous. The recipes set me dreaming of strudels and poppy seed crescents and I can't wait to start baking from it." --Bee Wilson
"Cooks ready to embark on serious fall baking will find ample inspiration in "Tava" (Nov. 8, Hardie Grant), Irina Georgescu's compendium of cakes, strudels, pastries and other treats from Romania and beyond." -Sarah Karnasiewicz, Wall Street Journal?
"A joy and an education. Irina Georgescu has disentangled the strands woven into Romanian cooking and identity and she has done so deliciously, through glorious cakes, pies, strudels and doughnuts. Cook, eat, learn." – Diana Henry
"I am such a huge admirer of Irina Georgescu in general, and of this extraordinarily impressive and important book in particular. A must-have, not just for enquiring bakers but, crucially, for all those interested in the context and evolution of culinary culture." – Nigella Lawson
"Romania is not yet well known as a gastronomic destination, but Irina Georgescu's Tava is set to change that. This delightful and unpretentious book tells the story of her culture through comforting food memories and delicious recipes for baking and desserts. --Richard Bertinet
Tava is so accomplished in ambrosial gumption, the words exploding in my head are which should I try first. I love the clarity of sun-filled photography and pretty pastry, and the unexpected layers beneath of '...opium with sugar and spices', walnuts instead of flour, noodles, rum, history, politics, Hungary v. Romania... Belle Epoque in Bucharest. I conclude there are no empty calories where Georgescu's presentation of Romanian and Eastern European confectionery is concerned. Everything is invested with allure and cleverness. Such a beautiful book." --Yemisi Aribisala
"A rare glimpse into a rich and diverse baking culture, this beautiful book is packed full of fascinating stories and recipes I can't wait to taste." --Felicity Cloake
"Like all the best cookbooks, Tava is as interested in the history and culture of Romania, as it is in all things sweet and baked. Enlightening, evocative and irresistible." --Tom Parker Bowles
"Cooks ready to embark on serious fall baking will find ample inspiration in "Tava" (Nov. 8, Hardie Grant), Irina Georgescu's compendium of cakes, strudels, pastries and other treats from Romania and beyond." -Sarah Karnasiewicz, Wall Street Journal
Irina and I agree that this part of the world is not enough known, or understood in the west—the food, the folklore, the craft of the people, the joy, the suffering, the beauty, and the culture. Tava aims to change that, through the simple joy of baking. --Sarah Copeland, EDIBLE LIVING
"This is an epic and riveting journey but a homely one too. Tava is not a lofty book, rather it is a book for home bakers, grounded in Romanian kitchens (both the humble and the not-so) and filled with incredibly tempting, doable recipes." -Nic Miller, Tales From Topographic Kitchens
"It's a baking book, and if you are a baker, even a hesitant one, I cannot think of one good reason why you would not want to own this book. And even non-bakers would surely be grateful for its beauty, its meticulousness, its thought-provoking essays-by-stealth on the relationship between food and heritage and, oh, the food itself!" -Nigella Lawson, Nigella.com
"This is an epic and riveting journey but a homely one too. Tava is not a lofty book, rather it is a book for home bakers, grounded in Romanian kitchens (both the humble and the not-so) and filled with incredibly tempting, doable recipes." -Nic Miller, Tales From Topographic Kitchens
"It's a baking book, and if you are a baker, even a hesitant one, I cannot think of one good reason why you would not want to own this book. And even non-bakers would surely be grateful for its beauty, its meticulousness, its thought-provoking essays-by-stealth on the relationship between food and heritage and, oh, the food itself!" -Nigella Lawson, Nigella.com
"Irina and I agree that this part of the world is not enough known, or understood in the west—the food, the folklore, the craft of the people, the joy, the suffering, the beauty, and the culture. Tava aims to change that, through the simple joy of baking." --Sarah Copeland, EDIBLE LIVING
"Cooks ready to embark on serious fall baking will find ample inspiration in "Tava" (Nov. 8, Hardie Grant), Irina Georgescu's compendium of cakes, strudels, pastries and other treats from Romania and beyond." -Sarah Karnasiewicz, Wall Street Journal
"It is outstanding. Filled with vibrant imagery and recipes to inspire you like no other baking title before. A must have....I honestly have goosebumps looking at the pages and content in this book." --Jenny Hartin, Eat Your Books