Up and Down: Victories and Struggles in the Course of Life (Compact Disc)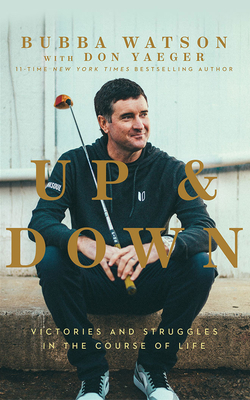 $36.99
Not currently available - email or call for details
Description
---
He was a small-town boy who burst onto the international golf scene with a dramatic hook shot from deep in the woods to win the Masters-- before the game he loved almost killed him. Opening up about the toll that chasing and achieving his dream of being a champion golfer took on his mental health, Bubba Watson shares his powerful story of the breaking point that gave him clarity.
Bubba Watson is known as the big-hitting left-handed golfer who plays with the pink driver--the small-town kid who grew up as a child golf prodigy before going on to win two Masters Tournaments, competing in the Olympics, and rising to be the number two golfer in the world.
But every dream comes with a price. Feeling that he was never good enough, Bubba began to let the constant criticism from fans and commentators haunt his thoughts. Success in the game he loved was killing him.
In Up and Down, Bubba opens up about his debilitating anxiety attacks, the death of his father and namesake, adopting his children, and how reaching a breaking point professionally and personally drew him closer to his family and God.
Golf is what Bubba Watson does, but it is not who he is. Through his story, you'll learn how Bubba:
Overcame his anxiety and feelings of inadequacy
Found his true identity not in the standards of the world, but in the God who already knows he is enough
Learned to trust God with his gifts, family, and biggest dreams
Became the husband, father, friend, and mentor he was called to be
Life, like golf, is filled with ups and downs. Up and Down is the inspiring story of an imperfect man striving to become the best person he can be--wherever the course may take him.