Enemies and Allies: An Unforgettable Journey Inside the Fast-Moving & Immensely Turbulent Modern Middle East (CD-Audio)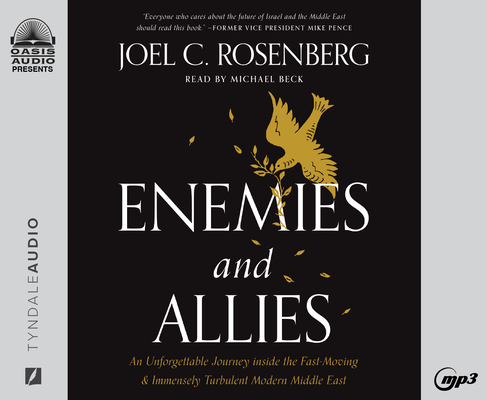 $12.99
Not currently available - email or call for details
Description
---
Do recent changes in the Middle East signal peace? One Arab country after another is signing historic, game-changing peace, trade, investment, and tourism deals with Israel. At the same time, Russia, Iran, and Turkey are forming a highly dangerous alliance that could threaten the Western powers. Meanwhile, the U.S. is drawing down its military forces in the Mideast and focusing on matters closer to home. Where's it all heading?

New York Times bestselling author Joel C. Rosenberg, based in Jerusalem, skillfully and clearly explains the sometimes-encouraging, sometimes-violent, yet rapidly shifting landscape in Israel and the Arab/Muslim world. Enemies and Allies will take readers behind closed doors in the Middle East and introduce them to the very kings and crown princes, presidents and prime ministers who are leading the change.

Includes exclusive, never-before-published quotes, insights, and analysis from the author's conversations with some of the most complex and controversial leaders in the world:
Saudi Crown Prince Mohammed bin Salman (MBS)
Egypt's President Abdel Fattah el-Sisi
Jordan's King Abdullah II
United Arab Emirates' Crown Prince Mohammed bin Zayed (MBZ)
Israeli prime minister Benjamin Netanyahu
Israeli president Reuven Rivlin
About the Author
---
Joel C. Rosenberg (www.joelrosenberg.com) is a New York Times bestselling author of 13 novels and five nonfiction books, with nearly 5 million copies sold.
He has been interviewed on hundreds of radio and TV shows, including ABC's Nightline, CNN, CNN Headline News, C-SPAN, Fox News, MSNBC, The History Channel, The Rush Limbaugh Show, The Sean Hannity Show, and The Glenn Beck Show. His articles and columns have been published by National Review, FoxNews.com, CNN.com, the Jerusalem Post, World magazine, and the Washington Times, among others. He has been profiled by the New York Times, the Washington Times, and the Jerusalem Post.
Joel has spoken to audiences and met with religious and government leaders all across the U.S. and Canada and around the world, including Israel, Iraq, Egypt, Jordan, Morocco, the UAE, Turkey, Afghanistan, Russia, Germany, France, Belgium, Italy, India, South Korea, and the Philippines. He has also addressed audiences at the White House and the Pentagon, addressed members of Congress on Capitol Hill, members of the Canadian Parliament in Ottawa, and a conference held at the European Union Parliament in Brussels.
He is the founder and chairman of The Joshua Fund (www.joshuafund.com), a nonprofit educational and charitable organization he and his wife launched in 2006 to mobilize Christians to "bless Israel and her neighbors in the name of Jesus, according to Genesis 12:1-3."