Firefly: The Unification War Vol. 3 (Hardcover)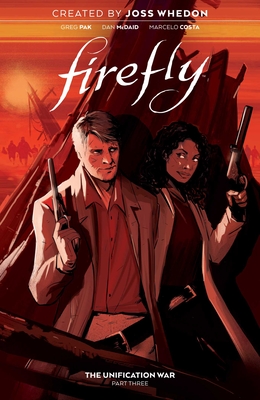 Other Books in Series
This is book number 3 in the Firefly series.
Description
---
THERE'S NO ESCAPING THE PAST. Captain Malcolm Reynolds, his first mate Zoë Washburne and the ragtag crew of Serenity have been torn apart by Boss Moon, the Unificators and the gorram Alliance itself—but they're nothing compared to the allies Mal's gonna have to turn to to stop them, starting with one of the most ruthless, terrifying people in the entire 'verse: Ma Reynolds! With a new war brewing, the Alliance on the verge of gaining more power than ever, and Mal's own freedom on the line, our good Captain is going to be reminded that saving the day always comes at a higher price than you thought. The New York Times best-selling author Greg Pak (Star Wars), artist Dan McDaid (Doom Patrol) and visionary Firefly creator Joss Whedon (Buffy The Vampire Slayer, Marvel's The Avengers) conclude the definitive story of the Unification War...and send the crew of Serenity in a shocking new direction. Collects Firefly #9-12
About the Author
---
Joseph Hill Whedon is an American film director, producer, writer, and composer. He is the founder of Mutant Enemy Productions, co-founder of Bellwether Pictures, and is best known as the creator of several television series. These include Buffy the Vampire Slayer (1997–2003), Angel (1999–2004), Firefly (2002), Dollhouse (2009–2010), and Agents of S.H.I.E.L.D. (2013–2020).

Whedon co-wrote for the Pixar animated film Toy Story (1995) (for which he was nominated for the Academy Award for Best Original Screenplay), wrote and directed the Firefly film continuation Serenity (2005), co-wrote and directed the Internet miniseries Dr. Horrible's Sing-Along Blog (2008), and co-wrote and produced the horror comedy film The Cabin in the Woods (2012). He wrote and directed the Marvel Cinematic Universe superhero films The Avengers (2012) and its sequel Avengers: Age of Ultron (2015), and also co-wrote the script for the DC Extended Universe superhero film Justice League (2017). He also served as director for Justice League on re-shoots, replacing Zack Snyder (who retained directorial credit).

Actors Ray Fisher, Charisma Carpenter, Michelle Trachtenberg and Amber Benson have complained publicly about Whedon's behavior on set. WarnerMedia investigated Fisher's allegations and announced that they had taken "remedial action" in December 2020.