The Anxious Thoughts Workbook for Teens: CBT Skills to Quiet the Unwanted Negative Thoughts That Cause Anxiety and Worry (Paperback)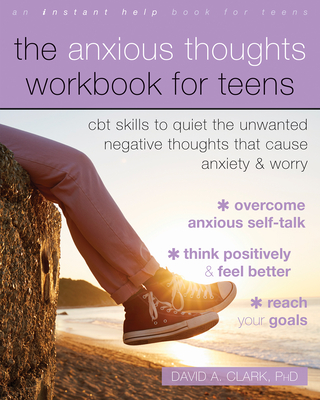 $16.95
Not currently available - email or call for details
Description
---
Practical and simple activities to help you break free from the anxious, intrusive, and unwanted thoughts that feed your anxiety and depression, so you can reach your goals and thrive
Are negative, anxious thoughts getting in the way of living your life? You're not alone. The teen years are full of changes and challenges--especially in today's uncertain world. It's no wonder, then, that teens are feeling more anxious than ever The good news is that you can move beyond these worrying thoughts, and get back to the things that matter.
Based in evidence-based cognitive behavioral therapy (CBT), this workbook offers a personalized approach to help you move past anxious thoughts for good. You'll learn how to change unhelpful and destructive thinking "habits," stop seeing your thoughts as all-powerful "facts," and manage the difficult emotions that can accompany these thoughts. Most importantly, you'll discover how to defeat toxic negativity, and find strength in positivity--so you can move forward in life with confidence
If you're ready to stop letting your anxious thoughts control your life and keep you from being your very best, this workbook can show you how.
In these increasingly challenging times, kids and teens need mental health resources more than ever. With more than 1.6 million copies sold worldwide, Instant Help Books are easy to use, proven-effective, and recommended by therapists.
About the Author
---
David A. Clark, PhD, is a clinical psychologist, and professor emeritus at the University of New Brunswick. He is author or coauthor of several books on depression, anxiety, and obsessive-compulsive disorder (OCD), including The Anxiety and Worry Workbook with Aaron T. Beck (founder of cognitive therapy), The Anxious Thoughts Workbook, The Negative Thoughts Workbook, and Cognitive-Behavioral Therapy for OCD and Its Subtypes. Clark is a founding fellow and trainer consultant with the Academy of Cognitive and Behavioral Therapies, and fellow of the Canadian Psychological Association. He is author of the blog, The Runaway Mind, on www.psychologytoday.com.