Last Rites: The Evolution of the American Funeral (Hardcover)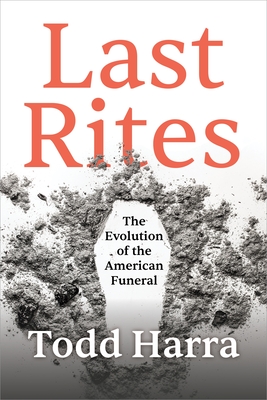 $26.99
Not currently available - email or call for details
Description
---
The Untold Story of American Funeral and Mourning Traditions

Why do we embalm the deceased? Why are funerals so expensive? Is there a reason coffins are shaped the way they are? When—and why—did we start viewing the deceased? Ceremonies for honoring the departed are crucial parts of our lives, but few people know where our traditional practices come from—and what they reveal about our history, culture, and beliefs about death. In Last Rites, author Todd Harra takes you on a fascinating exploration of American funeral practices—examining where they came from, what they mean, and how they are still evolving.

Our conventions around death, burial, and remembrance have undergone many great transitions—sometimes due to technology, respect for tradition, shifting sensibilities, or even to thwart grave robbers. Here you'll explore:

• Influences for American rituals—from medieval Europe, the Roman Empire, and even ancient Egypt
• When mourning fell out of fashion—and how George Washington's passing brought it back
• Abraham Lincoln's landmark funeral and its widespread impact
• Flowers, liquor, mourning gifts, and caskets—the reasons behind our grieving customs
• Unknown soldiers—how warfare influenced funeral and bereavement practices … and vice versa
• How growing populations, religion, inventions, and media have changed and continue to shape our traditions
• The future of our death rites—mushroom suits, green burial, body donation, flameless cremation, home funerals, and more

The rich story of the American funeral is one of constant evolution. Whether you're planning a funeral service or are simply intrigued by the meaning behind American burial practices, Last Rites is an informative and compelling exploration of the history—and future—of the ceremonies we use to say farewell to those who have departed this world.
About the Author
---
Todd Harra has over a decade of experience as a licensed funeral director and embalmer and is a certified postmortem reconstructionist and cremationist. He has written two nonfiction books about the profession, Mortuary Confidential and Over Our Dead Bodies, and is an associate editor for Southern Calls, a renowned journal in the funeral profession. He is the president of the Delaware State Funeral Directors Association. For more, visit toddharra.com.
Praise For…
---
"For readers with a taste for the quirky or the macabre, Harra, a writer and funeral professional, explores the hows and whys of American funerals, including changing influences from religion, war, high-profile deaths, the ancient world, and more." —Library Journal

"A treasure trove of morbid intrigue. Never has a work of nonfiction read more like a thriller novel. Leaving no gruesome detail unexplained, Last Rites is the way history books should always be written." —Southern Calls, The Journal of the Funeral Profession

"For anyone who ever wonders why funerals are the way they are, this book weaves history and modern funeral rites in a way that compares historical norms with current funeral rituals. A must-read." —Brian Waters, host of Undertaking: The Podcast

"To other histories of funeral customs in North America, we can add this richly researched and annotated text by Todd Harra, for whom funerals—both the idea of the things and the things themselves—are worthy of a life's work and serious scrutiny. Humanity is never so manifest as when a human dies; what we do about mortality separates us from other species. Last Rites is for mortals and mortuary sorts, the reverend clergy, and reverential humanists. And Harra is the most reliable kind of witness: a practitioner, scholar, and storyteller." —Thomas Lynch, author of The Depositions and Bone Rosary