The Guy's Guide to Four Battles Every Young Man Must Face: a manual to overcoming life's common distractions (Paperback)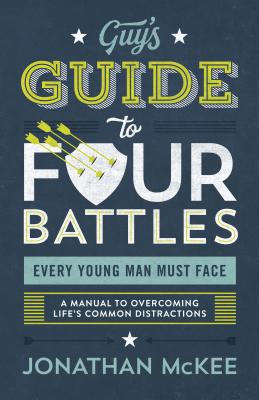 $12.99

Usually arrives at our store in 5-14 business days.
Description
---
Honestly?. . . 
"Why wait for something when I can enjoy it now?"
"These images don't really affect me. . .do they?"
"How could smoking a little weed really be that bad when it's becoming legalized everywhere?"
"I'd like to tell you I don't care what others think, but honestly, I want to be liked."
 
Maybe you're thinking, "I've had one. . .maybe even a few of these thoughts, and I don't know how to even begin to deal with them."
 
The good news? You're not alone. And there is a way to fight these battles head-on, overcoming the past, pressing forward, and becoming the person God designed you to be.
 
So what's a guy to do? . . .
 
Join youth culture expert and author of the popular Guy's Guide to God, Girls, and the Phone in Your Pocket, Jonathan McKee, as he gets real about the four common battles every young man will encounter in his life:
 
1: Sexual Temptation
2. Screens
3: Controlled Substances
4: Self-Esteem

With humor and honesty, McKee offers up practical, spiritual advice filled with real-world application helping you face today's distractions.
 
About the Author
---
Jonathan McKee is an expert on youth culture and the author of more than twenty books, including The Bullying Breakthrough, The Teen's Guide to Social Media. . .and Mobile Devices, and The Guy's Guide to God, Girls, and the Phone in Your Pocket. He has over twenty years of youth-ministry experience and speaks to parents and leaders worldwide. For more from Jonathan, go to BecomingScreenWise.com or follow him on Twitter.com/InJonathansHead.


 
Praise For…
---
"Young men, please consider reading this book. If you take the advice to heart, it could be a game-changer for your life now and in the future. Jonathan tackles four of the biggest battles you face daily, and yet he does it with humor, stories, and biblical insight. As a father and teacher, I wish every young Christian man would read this book."
–Sean McDowell, PhD, Biola University Professor, speaker, and author of over 15 books including So the Next Generation Will Know
"Young men face unique challenges growing up in today's world. With two teenage sons at home, I have witnessed that firsthand! This is important reading for every Christian boy as they transition into manhood."
–Jim Daly, President of Focus on the Family

"Jonathan's newest Guy's Guide is the perfect book for today's young men as they encounter the numerous distractions way too prevalent in this world. A must-read for guys today!"
–Pat Williams, Orlando Magic Founder and Senior Vice President, author of Character Carved in Stone

"The Guy's Guide to Four Battles Every Young Man Must Face points toward God's blueprint for living life to the fullest, while providing practical strategies for successfully navigating these critical aspects of teen culture."
–Greg Stier, Founder and CEO of Dare 2 Share
"If you're a young man, or know one, get this book NOW. It's intensely practical and written by Jonathan McKee, the authority in youth ministry and Christian discipleship."
–J. Warner Wallace, Dateline featured Cold-Case Detective, Senior Fellow at the Colson Center for Christian Worldview, Adjunct Professor of Apologetics at Biola, author of Cold-Case Christianity, God's Crime Scene, Forensic Faith and creator of the Case Makers Academy for Kids
"I love the blunt, practical, and relevant approach to these major distractions every young man will face. Jonathan McKee understands the culture of this young generation like few people in the world. This is definitely a must-read."
–Jim Burns PhD, President of HomeWord, author of Understanding Your Teen and Doing Life With Your Adult Children: Keep Your Mouth Shut and the Welcome Mat Out
"As boys become men, they're going to have to navigate the four S's of today's culture: self-image, screens, sex, and substances. Guy's Guide offers real-world wisdom on each of these topics along with practical tips that will not only hit young men where they are, but will also help shape who they become. Get your guy the advice he'll need in life. Get him this book!"
–David R. Smith, pastor of The Root Church and author of Christianity: It's Like This

"Jonathan McKee has done it again with The Guys Guide to Four Battles Every Young Man Must Face. He has given us practical tips that we can use to sit down with our boys, reminding them of who they are in God's eyes and how important it is to keep their eye on the road ahead instead of being distracted by the enticements of life that can take them off track."
–Maggie John, Senior Executive Producer/ Host, 100 Huntley Street
"This book is so much more than a guide talking at teenage guys; it's a resource to engage and talk with teenage guys having conversations around critical issues they face daily. The perfect gift for young men from parents, grandparents, youth workers. . .and all who care for teenagers."
–Mark W. Kirgiss, Sr. Area Director, Greater Lafayette Young Life & WyldLife
"The Guys Guide to Four Battles is mandatory reading for any guy who wants to date my teenage daughter! Seriously though, following Jesus is hard, and trying to navigate His words of truth against our confusing culture can be daunting. This book is a great place to start and a must-read for the young man who is sharpening his journey of becoming more like Jesus."  
–Don Talley, Associate VP, Youth For Christ USA Inc.
"If you've ever argued with your teen son about him being on screens too long, if viewing his search history or cleaning out his jean pockets has broken your heart, if you've wondered if he's developing an addiction to video games. . .get him this book! Jonathan talks straight to guys in relevant language on hot, current topics with humor and candor. If your son has a smartphone or gaming system—or ever leaves the house—consider this book his guide!"
-Traci Morrow, speaker, mom, and Host of John Maxwell's global simulcast
"A crucial guide for today's young men as they navigate the priorities they care about most—which makes it the perfect tool for parents to engage their kids in conversations about the four S's. . .four S-words that lead to the fifth S-word every parent wants to experience: success. If a parent is not discussing these four issues, they are not succeeding as parents."
-Stephen Arterburn, bestselling author, speaker, pastor, Founder and Host of New Life Live and Founder of Women of Faith!, but first and always best, husband and father of five amazing kids