Emma of 83rd Street (Paperback)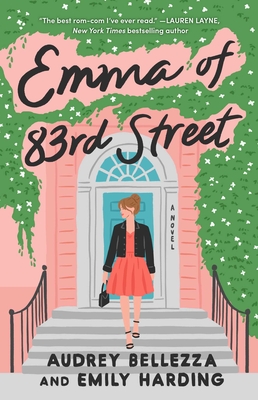 Description
---
In this witty and romantic debut novel, Jane Austen's Emma meets the misadventures of Manhattan's modern dating scene as two lifelong friends discover that, in the search for love, you sometimes don't have to look any further than your own backyard.

Beautiful, clever, and rich, Emma Woodhouse has lived twenty-three years in her tight-knit Upper East Side neighborhood with very little to distress or vex her…that is, until her budding matchmaking hobby results in her sister's marriage—and subsequent move downtown. Now, with her sister gone and all her friends traveling abroad, Emma must start her final year of grad school grappling with an entirely new emotion: boredom. So when she meets Nadine, a wide-eyed Ohio transplant with a heart of gold and drugstore blonde highlights to match, Emma not only sees a potential new friend but a new project. If only her overbearing neighbor George Knightley would get out of her way.

Handsome, smart, and successful, the only thing that frustrates Knightley more than a corked whiskey is his childhood friend, Emma. Whether it's her shopping sprees between classes or her revolving door of ill-conceived hobbies, he is only too happy to lecture her on all the finer points of adulthood she's so hell-bent on ignoring. But despite his gripes—and much to his own chagrin—Knightley can't help but notice that the girl next door is a woman now…one who he suddenly can't get out of his head.

As Emma's best laid plans collide with everyone from hipster baristas to meddling family members to flaky playboy millionaires, these two friends slowly realize their need to always be right has been usurped by a new need entirely, and it's not long before they discover that even the most familiar stories still have some surprises.
About the Author
---
Audrey Bellezza is a two-time Emmy Award–nominated TV producer who has spent over twenty years writing, developing, and executive producing nonfiction television shows for a number of networks and streaming platforms. Audrey lives in New Jersey with her husband and two children.

Emily Harding is a writer and TV producer whose work has appeared on numerous networks and websites. When not hunched over her computer perfecting her bad posture, she can be found losing another game of Monopoly to her husband and two kids.
Praise For…
---
"[A] charming debut… The authors bring plenty of wit to this classic friends-to-lovers tale. Readers will fall in love with Emma Woodhouse all over again."—Publishers Weekly

"Belleza and Harding have created a glamorous romp that is heartfelt, steamy, and romantic... For fans of the movie Clueless and retellings of classics."—Library Journal

"A great summer beach read...From its Lilly Pulitzer-colored cover to its Blair Waldorf-type protagonist, this book should be purchased immediately because it's going to ride off shelves like a vintage Jaguar with the top down."—Bookreporter

"The best romantic comedy I've ever read. A sparkling take on Emma that would make Jane Austen proud."—Lauren Layne, New York Times bestselling author of Made in Manhattan

"Emma of 83rd Street is a compulsive page-turner with excellent slow-burn tension. A friends-to-lovers instant favorite!"—Sarah Hogle, author of You Deserve Each Other

"Delightfully modern and compulsively readable, Emma of 83rd Street made my Clueless-loving heart sing—a knockout debut!"—Angie Hockman, author of Shipped

"A delightful, modern twist on Jane Austen's Emma…The crackling tension between him [Knightley] and Emma drives the story, but as in Austen's original, the relationship also leads both characters to some critical self-examination. Bellezza and Harding balance the introspection with a healthy dose of New York glitz…as with all Austen adaptations, the joy--and there's plenty of it--is definitely in the journey."—Shelf Awareness

"[A] witty and romantic debut novel."—The Nerd Daily

"A delightful debut...sweeter than candy."—Marilyn Simon Rothstein, author of Husbands and Other Sharp Objects

"Austenites and rom-com fans rejoice: Emma of 83rd Street is witty, wonderful, and the best retelling of Emma since Clueless. I loved every minute of it."—Sarvenaz Tash, author of Virtually Yours

"Fans of Jane Austen: meet Audrey Bellezza and Emily Harding. Our beloved Emma returns in this fresh, utterly charming, feel-good retelling of an enduring classic. Whip-smart, pitch-perfect, and newly minted."—Julie Valerie, author of Holly Banks Full of Angst

"A delicious wonder of a book... Bellezza and Harding effortlessly make this contemporary retelling of the classic Austen novel Emma into a delightful romance filled with characters and a love story you'll definitely want to revisit."—Sheaf & Ink

"Warm, sweet and funny, Emma of 83rd Street is a fun take on a comforting classic and a fresh reminder of all the reasons we love romance."—Genevieve Novak, author of No Hard Feelings and Crushing

"New York and Jane Austen are two fo my great loves, so how could I not fall for Emma of 83rd Street? It's a frothy city romp based on one of Austen's most delightfully fun stories. And that's what we all need this summer - a burst of fun. I couldn't have enjoyed this slice of NYC fantasy more."—Ali Rosen, author of Recipe for Second Chances