The Divine Claudia: The Life and Career of Claudia Muzio (Hardcover)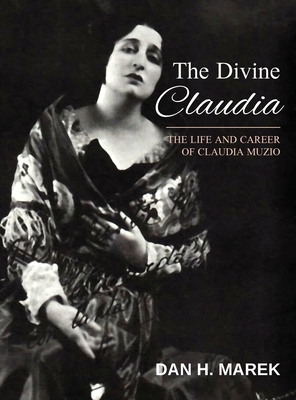 $58.00

Usually arrives at our store in 5-14 business days.
Description
---
"Muzio was a case apart: you cannot classify her, for in the end you have been so emotionally destroyed by her performance, you did not even know anymore what kind of instrument she had". So spoke Lucrezia Bori, the beloved soprano of the Metropolitan Opera. Bori was echoing the opinion of many of Claudia Muzio's contemporaries and successors such as Eva Turner, Rosa Ponselle, and Mafalda Favero who wrote: "Actually," she Favero] admitted with her total candor, "it took me a long time to find my own interpretation La traviata], for I was haunted by Claudia Muzio in this role. When she sang it at the Coloń in Buenos Aires in 1933, I went to each rehearsal, worshiping her, and it took a superhuman effort for me to finally obtain my personal approach. ... I recall a performance of Muzio's in Refice's Cecilia, an opera she created in Rome in 1934 which deals with the saint's martyrdom. She was so sublime in it that I went backstage to express my admiration at the end and impulsively dropped to my knees. 'Now, really, my child ' she said with those sad eyes which haunted me. 'What are you doing?' Her Norma was also an unforgettable creation. She had the quality I consider so essential in an artist: to make the public suffer along with her."
Sometimes we hear artists described as "She was born a hundred years too late", but Claudia Muzio was born too soon. She was a great "singing actress" whose stage portrayals produced the hysterical kinds of responses cited above. Most reviews mention her stage work first, not failing to praise her singing. It is from her late recordings from 1934-35, when she was ill, that she is remembered today. Muzio had a distinctive vocal timbre, and an unparalleled command of dynamics and phrasing that, once heard, is never forgotten. Indeed, she was called "La Unica" in South America where she was the Teatro Col n's brightest star for fifteen years. Muzio made her debut as the first Italian Tosca at the Metropolitan Opera in 1916 at the age of 26 with Enrico Caruso and Antonio Scotti. She went on to sing with all the great artists of her time in a world-wide career of over twenty-five-years. Claudia Muzio sang over a thousand performances of major dramatic operatic repertory, including 131 Aidas, 146 Traviatas, 81 Trovatores, and 129 Toscas. This figure does not include concerts and by all accounts, Claudia Muzio was also a great recitalist.