The Cuban Revolution: A Captivating Guide to the Armed Revolt That Changed the Course of Cuba, Including Stories of Leaders Such as Fidel Ca (Hardcover)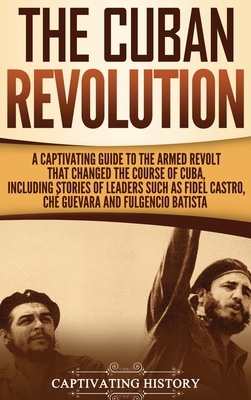 $29.99

Usually arrives at our store in 2-8 business days.
Description
---
If you want to discover the remarkable history of an effort that should never have succeeded, then keep reading...
Cuba had only just gained its independence when the country found itself in a brutal tug-of-war between dictator after dictator.
The Americans that had been so intensely involved in liberating it from the grasp of the Spanish quickly began to exploit it using the Platt Amendment; even after the amendment was abrogated, Cuban presidents arose and seized power in coup after bloody coup.
But none of these would be worse than Fulgencio Batista, a man who would be responsible for the deaths of tens of thousands of people.
Yet this is not so much the story of the revolution as it is the story of the three inimitable men behind it: Fulgencio Batista, Fidel Castro, and Ernesto "Ch " Guevara. Each of these controversial figures have a gripping story behind their actions, and this book aims to explore their lives and how their backstories brought them to their roles in the revolution.
The first two chapters of this book will provide a brief overview to the history of Cuba, giving depth and understanding to how the revolution came to be. After that, it will plunge into the lives of Batista, Castro, and Guevara, and tell the tale of the revolution.
It is a gripping story, the story of an impossible victory by a disadvantaged underdog who should never have won. It's a story about courage in the face of certain failure and utter determination against incredible odds.
And ultimately, it is a story about perseverance, about hope and courage, about never giving up. It's the story of the Cuban Revolution, and it is an incredible adventure.
In The Cuban Revolution: A Captivating Guide to the Armed Revolt That Changed the Course of Cuba, Including Stories of Leaders Such as Fidel Castro, Ch Guevara, and Fulgencio Batista, you will discover topics such as
An overview to the history of Cuba
Becoming Sergeant Batista
The Sergeants' Revolt
Revolution Brews
MR-26-7
A Fateful Meeting
The Voyage of the Granma
Operation Verano and Victory
And much, much more
So if you want to learn more about the Cuban Revolution, click "add to cart"