The Vocabulary Workbook for 8th Grade: Weekly Activities to Boost Your Word Power (Paperback)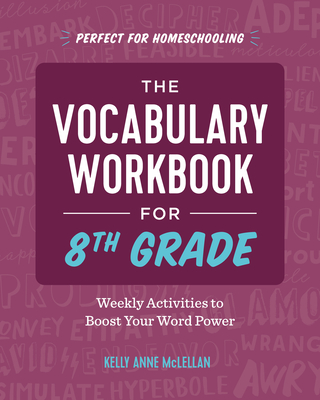 $13.99

Usually arrives at our store in 5-14 business days.
Description
---
Boost your 8th grader's vocab for stronger reading, writing, and speaking
Words have power The Vocabulary Workbook for 8th Grade enhances your 8th grader's vocabulary skills with 180 fresh words and engaging exercises, all geared to the appropriate reading level.
Each lesson of this vocabulary workbook focuses on five words. The lessons introduce core meanings and reinforce correct usage through bite-sized challenges: matching words to context, identifying roots, finding synonyms or antonyms, and more. Get ready to be wowed--your 8th grader is on their way to gaining language superpowers
The Vocabulary Workbook for 8th Grade includes:
A full school year--Explore 36 lessons--one for each week of the school year--that make this vocabulary workbook ideal for homeschooling, summer reviews, or supplemental learning.
180 Wondrous words--Discover a wide variety of useful, level-appropriate vocab words, from "avid" and "benign" to "vilified" and "whirlwind."
Exercise those skills--Work out the meanings of new words with a variety of exercises to engage your 8th grader and give them different ways to learn.
Make learning vocabulary fun for middle schoolers with The Vocabulary Workbook for 8th Grade.