Crushing (Hardcover)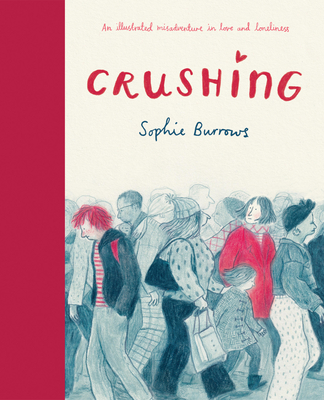 Description
---
Life is full of connections – if you know how to make them. Crushing follows two people -- one determined and a bit awkward, the other unsure where to begin -- longing to find out where they belong. Their intersecting and overlapping journeys reveal hidden connections and the unpredictable and unexpected ways we may find each other.   
  
Achingly beautiful, quietly defiant, and full of subtle wit and wisdom, Crushing is a story told in silence; a story without words but bursting with life and color.   
  
This stunning debut graphic novel from Sophie Burrows is a timely look at life in an age of distance and a story of love and understanding -- a perfect book to read and to share.
About the Author
---
Sophie Burrows is an illustrator and author based in London. She earned her MA in children's book illustration at Cambridge School of Art, where she spent time nurturing a love for comics and writing and developing her own children's books. Besides drawing, she loves live music, trashy television, cooking, and spending time outdoors. Her first picture book, Ig and Og and the Other Frog, was published in 2020.
Praise For…
---
"An exquisitely painful portrait of loneliness, perfectly pitched for the current time of pandemic isolation . . . Visual genius . . . The desperate need for human touch, for human connection is beautifully evoked in the deceptively simple drawings . . . Every detail has been carefully thought out, providing the reader with a rich narrative experience. That this is a debut leaves one eager to see what Burrows' next project will be."
—New York Journal of Books

"Poignant, timely … Burrows exhibits that deft cleverness throughout … . Burrows' pencil drawings in mostly grays-to-blues enhanced with glowing reds produces a visually and emotionally nourishing feast. … Burrows' memorable creation should resonate with singles of any age in search of connection."
—Booklist (starred review)

"A charming graphic novel debut . . . that recommends optimism and a wry sense of humor while acknowledging the ubiquity of loneliness."
—Publishers Weekly

"The accomplished pencil drawings with red highlights are eloquent and emotive, drawing readers in, conveying the personalities of the characters, and capturing the poignancy, dignity, drama, and humor of the everyday . . . Evocatively sketches a fine line between someday and happily-ever-after."
—Kirkus Reviews 

"A tender and real modern love story told via sad-sweet illustrations from the brilliant Sophie Burrows."
—Matt Haig, author of The Midnight Library

"It's warm, it's funny—a subtle read, resting in the minor moments—the kebab shop visits, supermarkets, being curled up on the couch watching TV. More than words, Crushing is a feeling; a comforting, quiet feeling—just a really nice and relatable read for our times."
—The Skinny
 
"Portrays perfectly the feeling of metropolitan solitude while charged with a lingering sense of wonder."
—CulturAll
 
"Exquisitely drawn, full of quirky yet relatable little details to any urban dweller, and hopeful rather than hopeless, Crushing is a new kind of love story."
—Red Magazine
 
"Cute, whimsical and relatable … it's a charmer."
—YADudeBooks
 
"Eloquently told … poignant."
—Youth Services Book Review