We Must Not Think of Ourselves (Hardcover)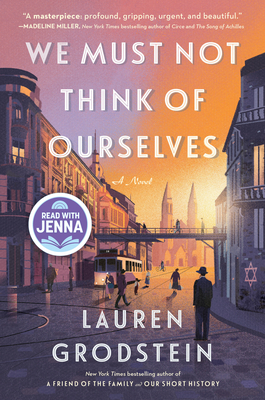 $29.00

Available for Pre-Order Now
Description
---
"This book is a masterpiece: profound, gripping, urgent, and beautiful." —Madeline Miller, New York Times bestselling author of Circe and The Song of Achilles

A heart-wrenching story of love and defiance set in the Warsaw Ghetto, based on the actual archives kept by thosedetermined to have their stories survive World War II

On a November day in 1940, Adam Paskow becomes a prisoner in the Warsaw Ghetto, where the Jews of the city are cut off from their former lives and held captive by Nazi guards, and await an uncertain fate. Weeks later, he is approached by a mysterious figure with a surprising request: Will he join a secret group of archivists working to preserve the truth of what is happening inside these walls? Adam agrees and begins taking testimonies from his students, friends, and neighbors. He learns about their childhoods and their daydreams, their passions and their fears, their desperate strategies for safety and survival. The stories form a portrait of endurance in a world where no choices are good ones.

One of the people Adam interviews is his flatmate Sala Wiskoff, who is stoic, determined, and funny—and married with two children. Over the months of their confinement, in the presence of her family, Adam and Sala fall in love. As they desperately carve out intimacy, their relationship feels both impossible and vital, their connection keeping them alive. But when Adam discovers a possible escape from the Ghetto, he is faced with an unbearable choice: Whom can he save, and at what cost ?

Inspired by the testimony-gathering project with the code name Oneg Shabbat, New York Times bestselling author Lauren Grodstein draws readers into the lives of people living on the edge. Told with immediacy and heart, We Must Not Think of Ourselves is a piercing story of love, determination, and sacrifice for the many fans of literary World War II fiction such as Kristin Harmel's The Book of Lost Names and Lauren Fox's Send for Me.
About the Author
---
Lauren Grodstein is the author of Our Short History, The Washington Post Book of the Year The Explanation for Everything, and the New York Times-bestselling A Friend of the Family, among other works.  Her stories, essays, and articles have appeared in various literary magazines and anthologies, and have been translated into French, German, Chinese, and Italian, among other languages.  Her work has also appeared in Elle, The New York Times, Refinery29, Salon.com, Barrelhouse, Post Road, and The Washington Post. She is a professor of English at Rutgers University-Camden, where she teaches in the MFA program in creative writing.
 
Praise For…
---
"This book is a masterpiece: profound, gripping, urgent, and beautiful. In its clear-eyed and devastating portrait of the past, Grodstein invites us into the present; to bear witness to the lives that have come before us, while finding meaning and courage for our own." —
—Madeline Miller, #1 New York Times bestselling author of Circe and The Song of Achilles
"In We Must Not Think of Ourselves, Lauren Grodstein writes with such a blazing commitment to the truth of the Warsaw Ghetto that sometimes I had to stop reading and catch my breath. But in the midst of the brutality, she clears a path for the parallel stories of love and decency. Make no mistake: this is a heartbreaking portrait of a dark moment. But this novel shimmers with light."
—
—Lauren Fox, New York Times bestselling author of Send for MeWe Must Not Think of Ourselves 
is one of those rare books—beautifully written, seamlessly constructed, quietly devastating—that manages to tell an old story in a new way with no pyrotechnics beyond perfect storytelling, including an ending that will stay with me always. It is far and away my favorite novel of the year, of many years, and I know I will be recommending it to readers forevermore.—
—Laurie Frankel, New York Times bestselling author of One Two Three
"[A] delicate, warm account of a brutal, cold time, grounded in humanity, small details, and unwavering clarity."—
—Kirkus Reviews
"Grodstein brings to life a critical piece of history with her strong sense of place and complex characters... [The Oneg Shabbat archive] is represented beautifully in Grodstein's first historical novel, supported by her intensive research and the book's dynamic relationships that show the value of everyday intimacies. Recommended for readers who enjoy stories from all time periods about the extraordinary actions of ordinary people."—
—Library Journal
"Grodstein makes her persecuted characters achingly human... This will stay with readers."—
—Publishers Weekly
"[A] moving chronicle, a worthy tribute to those who fought to survive the unthinkable."—
—Booklist
"This heart-wrenching tale explores love, defiance, and sacrifice in the face of unimaginable circumstances, making it a compelling addition to the literary World War II fiction genre."—
—Beyond The Bookends