Black Moses: The Hot-Buttered Life and Soul of Isaac Hayes (Hardcover)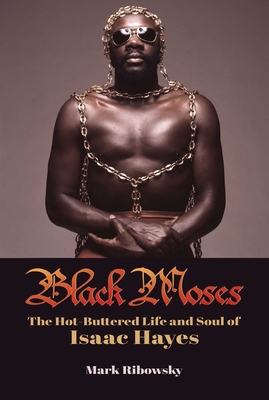 $28.00

Usually arrives at our store in 5-14 business days.
Description
---
The first biography of soul pioneer Isaac Hayes, whose groundbreaking music provided the foundation for hip-hop and a new racial paradigm.

"Black men could finally stand up and be men because here's Black Moses; he's the epitome of Black masculinity. Chains that once represented bondage and slavery now can be a sign of power and strength and sexuality and virility." —Isaac Hayes

Within the stoned soul picnic of Black music icons in the '60s and '70s, only one could bill himself without a blush as Moses, demanding liberation for Black men with his notions of life and self—Isaac Lee Hayes Jr., the beautifully sheen, shaded, and chain-spangled acolyte of cool, whose high-toned "lounge music" and proto-rap was soul's highest order—heard on twenty-two albums and selling millions of records. Hayes's stunning self-portraits, his obsessive pleas about love, sex, and guilt bathed in lush orchestral flights and soul-stirring bass lines, drove other soul men like Barry White to libidinous license. But Hayes, who called himself a "renegade," was a man of many parts. While he thrived on soulful remakes of pop standards, his biggest coup was writing and producing the epic soundtrack to Shaft, memorializing the "black private dick" as a "complicated man," as coolly mean and amoral as any white private eye.

This new musical and cultural coda delivered Hayes the first Oscar ever won by a Black musician, as well as the Grammy for Best Song. Yet, few know Hayes's remarkable achievements. In this compelling buffet of sight and sound, acclaimed music biographer Mark Ribowsky—who has authored illuminating portraits of such luminaries as Stevie Wonder, Little Richard, and Otis Redding—gallops through the many stages of Hayes's daring and daunting life, starting with Hayes's difficult childhood in which his mother died young and his father abandoned him. Ribowsky then takes readers through Hayes's rise at Memphis's legendary soul factory, Stax Records, first as a piano player on Otis Redding sessions then as a songwriter and producer teamed with David Porter. Tuned to the context of soul music history, he created crossover smashes like Sam & Dave's "Soul Man," "Hold on I'm Comin'," and "I Thank You," making soul a semi-religion of Black pride, imagination, and joyful emotion.

Hayes's subsequent career as a solo artist featured studio methods and out-of-the-box ideas that paved the way for soul to occupy the top of the album charts alongside white rock albums. But his prime years ended prematurely, both as a consequence of Stax's red ink and his own self-destructive tendencies. In the '90s he claimed he had finally found himself, as a minion of Scientology. But Scientology would cost him the gig that had revived him—the cartoon voice of the naively cool "Chef" on South Park—after he became embroiled in controversy when South Park's creators parodied Scientology in an episode that caused the cult's leaders to order him to quit the show. Although Hayes was honored by the Rock & Roll Hall of Fame in 2002, the brouhaha came as his seemingly perfect body finally broke down. He died in 2008 at age sixty-eight, too soon for a soul titan. But if only greatness can establish permanence in the cellular structure of music, Isaac Hayes long ago qualified. His influence will last for as long as there is music to be heard. And when we hear him in that music, we will by rote say, "We can dig it."
About the Author
---
Mark Ribowsky is the acclaimed author of more than thirty books on music, sports, and pop culture, his definitive biographies including those of Phil Spector, the Supremes, the Temptations, Stevie Wonder, Otis Redding, Lynyrd Skynyrd, James Taylor, Hank Williams, and Little Richard. His biography of Otis Redding was a finalist for the prestigious Marfield Prize. Some of his sports subjects include Al Davis, Satchel Paige, Howard Cosell, Tom Landry, Don Shula, the football Manning family, and a complete history of the Negro baseball leagues. He co-authored Dale Berra's My Dad, Yogi. He has also written major articles for Playboy, Penthouse, and Sport, and has appeared on Dateline NBC, Primetime Live, The Tavis Smiley Show, and numerous radio and Internet programs and documentaries.