The Last American Hero: The Remarkable Life of John Glenn (Hardcover)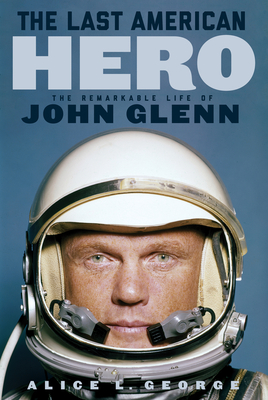 $30.00

Usually arrives at our store in 2-8 business days.
Description
---
On February 20, 1962, John Glenn became a national star. That morning at Cape Canaveral, the small-town boy from Ohio took his place atop a
rocket and soared into space.

He became celebrated in all corners of the world as not just the first American to orbit the Earth, but as the first space traveler to take the human race with him. Refusing to let that dramatic day define his life, he went on to become a four-term US senator—and returned to space at the age of seventy-seven. The Last American Hero is a stunning examination of the layers that formed the man: a hero of the Cold War, a two-time astronaut, a veteran senator, a devoted husband and father, and much more. At a time when an increasingly cynical world needs heroes, John Glenn's aura burns brightly in American memory.
About the Author
---
Alice L. George is a historian and served as a senior editor at the Charlotte (NC) News, the Lexington (KY) Herald-Leader, the Detroit Free Press, and the Philadelphia Daily News. She has authored or coauthored seven books, including The Cuban Missile Crisis and The Assassination of John F. Kennedy.
Praise For…
---
"Alice George's superbly written biography provides a fair, accurate, and insightful account of all John Glenn's careers—as Marine pilot, astronaut, politician, and American hero."
—Michael J. Neufeld, curator at the National Air and Space Museum and author of Von Braun: Dreamer of Space, Engineer of War
"John H. Glenn Jr.—United States Marine, combat pilot, Mercury and shuttle astronaut, US senator from Ohio—a 'Greatest Generation' American and hero."
—Rudy deLeon, former Deputy Secretary of Defense
"Today, it seems, we cherish our cinema superheroes, forgetting that people like John Glenn used to walk among us—and probably still do." —Neil deGrasse Tyson, Astrophysicist American Museum of Natural History, Author of Space Chronicles:Facing the Ultimate Frontier
"Alice George has the 'Right Stuff' to tell the amazing tale of this extraordinary fighter pilot, astronaut, and US senator."
—Ron Grimes, John Glenn's Senate Legislative Director
"A well-informed biography that presents its subject in a golden light."
—Kirkus Reviews
"
Time
's "Colonel Wonderful" receives a new biographical treatment in
The Last American Hero
, which positions him as an adventurer, a statesman, and a role model." —
Foreword Reviews
"George (
Awaiting Armageddon
, 2006) scrupulously details Glenn's transformation from his Ohio farm upbringing." —
Booklist