The Truly Healthy Vegetarian Cookbook: Hearty Plant-Based Recipes for Every Type of Eater (Paperback)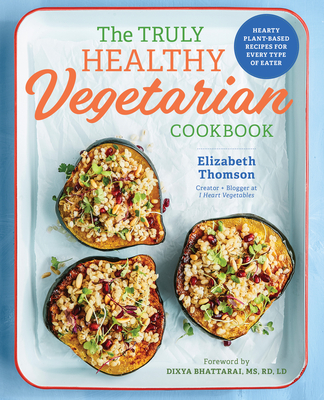 $16.99

Usually arrives at our store in 5-14 business days.
Description
---
The Truly Healthy Vegetarian Cookbook delivers over 100 deliciously low-carb vegetarian recipes that are actually good for you.
Certified health coach Elizabeth Thomson didn't always follow the healthy vegetarian lifestyle that she does today. Like many Americans, Elizabeth once believed that going "meatless" was healthy enough. Without much cooking experience, she relied on convenience meals like mac n' cheese, French fries, and pizza—all of which were
vegetarian
, but not nutritious.
Today, the voice of the popular blog
I Heart Vegetables
has reformed her unhealthy eating habits, and with
The Truly Healthy Vegetarian Cookbook
, she'll help you do the same. With wholesome vegetarian recipes that offer variety and simplicity, this vegetarian cookbook will prove that going beyond pasta, white rice, and meat substitutes is easier—and more delicious— than you thought.
In
The Truly Healthy Vegetarian Cookbook
you'll find:
100+ easy-to-make vegetarian recipes that are high-protein, low-carb, and unique to this vegetarian cookbook
Flexible recipe modifications for a variety of diets, such as dairy-free, nut-free, gluten-free, vegan, and more
Super-easy, budget-friendly meals that the whole family will enjoy, regardless of dietary preferences
Not all vegetarian recipes are healthy. For easy, delicious vegetarian meals that are truly good for you, turn to the pages of
The Truly Healthy Vegetarian Cookbook
.
About the Author
---
ELIZABETH THOMSON is the foodie behind the vegetarian food blog I Heart Vegetables. She enjoys sharing simple, delicious recipes with her readers and coming up with new ways to help people live a healthier life. When she's not in the kitchen, she can be found exploring the restaurant scene in Richmond, Virginia.

Foreword writer DIXYA BHATTARAI, MS, RD, LD, is a Fort Worth-based Registered Dietitian and food and nutrition expert. Dixya graduated with a major in dietetics and a minor in biology from Idaho State University in 2010 before she received a Master of Science in Nutrition in 2016. She created Food, Pleasure, and Health in 2011 to share easy, wholesome recipes, and provide a creative health and wellness space to help others enjoy healthy lives in an approachable way. She enjoys drinking hot tea and coffee, practicing yoga, and reading non-fiction.
Praise For…
---
"Liz takes the same balanced approach to living a healthy vegetarian lifestyle as I do. The Healthy Vegetarian Cookbook is a great resource for those looking to go meatless, and a welcome refresher for those of us who are already plant-based. Liz illustrates that vegetarian does not have to be boring while delivering recipes that are approachable and uncomplicated. A perfect addition to any cookbook collection."—Deborah Brooks, Confessions of a Mother Runnerblog

"The Truly Healthy Vegetarian Cookbook is a triumph—full of inspiring recipes that make plant-based eating accessible and exciting for everyone. As a food blogger and home cook for a family that happily mixes vegetarians and omnivores, I can attest that this book will be an invaluable resource whether you are a dedicated vegetarian or simply looking for ways to prepare more healthy, meatless meals. Liz not only tells you about the benefits of eating more plants, she shows you how to do it, in an easy and delicious way."—Monica Lensink, creator of Nourish-and-Fete.com

"How totally refreshing to see a vegetarian cookbook that finally makes vegetarian cooking an option even a non-vegetarian would happily choose. Each flavor-packed recipe is so well thought out and nutritiously balanced, without relying on any off-putting weird, goofy, or oddball ingredients. Liz's passion for creating and sharing healthy, easily attainable, plant-based recipes truly comes through in this delightful cookbook. Y'all, vegetarian or not, this is a cookbook I truly feel you'll find yourself using quite often, and not just as a shelf dust collector."—Colleen Delawder, Faith, Hope, Love, & Luck Survive Despite a Whiskered Accomplice

"Elizabeth's approachability, graciousness, and genuine love for plant-based cooking shine through in every recipe in this book. She makes vegetarian cooking easy and delicious with recipes you'll make again and again!"—Pamela Ellgen, author of The Healthy Slow Cooker Cookbook for Two

"This book will be instrumental in providing insights into the basics of a vegetarian diet, with tips and tricks to help avoid the pitfalls of unhealthy vegetarian eating, and inspiration to make meatless meals regularly. I sincerely hope The Truly Healthy Vegetarian Cookbook will find its way into everyone's kitchen as an inspiration for vegetable enthusiasts, novice vegetarians, and home cooks everywhere."—Dixya Bhattarai, MS, RD, LD, Registered Dietitian Nutritionist, Blogger @ Food, Pleasure, and Health