Kitchen Science for Toddlers: 20 Edible STEAM Activities and Experiments to Enjoy! (Paperback)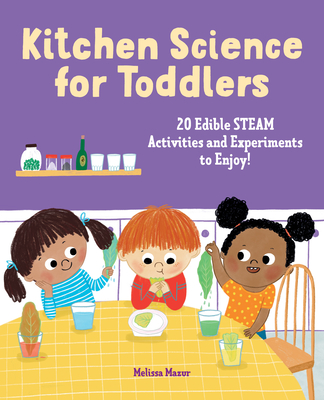 $12.99

Usually arrives at our store in 5-14 business days.
Description
---
Eureka! Introduce your toddler to the wonders of science!
Encourage play and discovery in the kitchen with 20 experiments kids can try and taste. This unique toddler "cookbook" book promises hours of fun for children and caregivers alike as they explore the basic principles of science, technology, engineering, art, and math (S.T.E.A.M.). See how milk can become plastic, how to turn melons into towers, and even make a homemade lava lamp. Best of all, most experiments can be taste-tested—and some can be eaten.
Teach your toddler skills and concepts no kids cookbook can!
Kid-friendly—Illustrated in a fun art style, this book is written to appeal to growing scientists and uses language they can easily understand.
Prep for fun—Set up the kitchen for success and some silly science with helpful "lab" rules and a handy list of the materials young Einsteins or Curies will need.
Extra lessons—On top of teaching the scientific method, the activities in this book also help toddlers develop curiosity, fine motor skills, and an extended attention span.
Grab their little lab coats and this fun activity book for junior scientists and start learning together!
About the Author
---
Melissa Mazur is an educator, educational blogger, and curriculum designer, and holds a master's degree in educational technology. Through her company, Learning Lab Resources, she has spent years writing, creating, and developing educational resources and curriculum for teachers.
Praise For…
---
"Kitchen Science for Toddlers is a must-read for all parents of young children! Not only are the activities fun and easy to facilitate, most of the ingredients required for the experiments are already found in your pantry. My kids were entertained, and I actually learned some exciting science concepts! Highly recommend!" —Rabbi Ariel Boxman, preschool director

"The activities in this book build a great foundation to the scientific method and enhance inquiry skills that can carry over to more advanced topics as children develop their scientific thinking. Kids and parents alike will have fun while learning in the kitchen." —Gina Szczodrowski, elementary educator and parent

"Simply put, Kitchen Science for Toddlers is fantastic! As a teacher of young children, science is one of the hardest subjects to plan. The experiments must grab the child's attention, yet be simple and safe for them to implement. This book offers many adaptable experiments. The simple, concise explanations of science vocabulary encourage exploration beyond the experiment. The "how it works" sections are perfectly written for little ones to understand, and the "messy meter" and "time needed" are fantastic for adults! I will use this book as a staple in my classroom, and will give a copy to my nieces, whom I know will love it!" —Kim Durston, preschool teacher

"Melissa Mazur's experience as a preschool science teacher and parent to young children has given her unique insight into what excites young minds. The colorful illustrations and fascinating experiments capture the attention and imaginations of little ones everywhere. They will have so much fun, they won't even realize they are learning!" —Jacqueline Ardoline, preschool teacher