Finding God, Finding Me: How I Met God as an Ordinary Teenager (Paperback)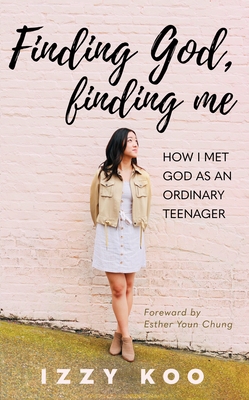 $37.79

Usually arrives at our store in 5-14 business days.
Description
---
Finding God, Finding Me tells the powerful testimony of an ordinary, sixteen-year-old girl whose life changes after encountering God. This book is a window into her fears, struggles, and insecurities as a high schooler, and how God helped her find her identity, confidence, and so much more. Being a teenager herself, Izzy knows first-hand the challenges facing today's teenagers. She wants to use her transformation story to inspire and convict others to want to begin their journey of finding Christ - and ultimately find themselves in the process.
Endorsement:
I wish I had read Finding God, Finding Meback when I was in middle school, trying to figure out my faith for myself and what it meant to me. The way this book is broken up into sections of different qualities Izzy had discovered about herself through her God-given experiences is incredibly digestible for readers, young and old, who want to dive deeper into their relationship with God. I am usually not one to finish a book from start to finish in one sitting, but it felt as though I was reading through a diary of Izzy's life or having a mentor speak to me through conversation. It blows my mind that while God calls the most seasoned pastors to spread His word, He also uses mere teenagers to further His kingdom using the gifts He's blessed them with. Finding God, Finding Me is a beautiful testament to that truth, and I am confident that Izzy's writing will have the most eye-opening impact on those who get their hands on this book.
-Yuna Song, Senior at Bellevue High School.
About the Author:
Izzy Koo is a high school student who is committed to helping others-especially youth-attain a deeper relationship with Christ. At sixteen, she started the "Project Encounter" movement-an international gathering of teenagers online to encourage one another through worship and testimonies. She believes strongly in teenagers inspiring other teenagers with their stories, which has led her to start a blog, compose songs, and release her first book.