6-Figure Blueprints and Beyond: How 35 Entrepreneurs Made It and How You Can Too (Paperback)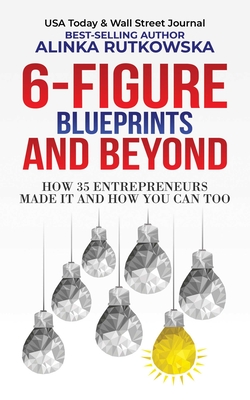 $16.95
Not currently available - email or call for details
Description
---
Six-Figure Blueprints is an exciting collection of inspiring stories and insights from entrepreneurs, for entrepreneurs who are looking to draw up the plans for their next venture. WHERE DO WE GO FROM HERE? GET ALL THE ANSWERS YOU NEED AND DRAW UP YOUR NEXT SIX-FIGURE BLUEPRINT!
The 2020s began as an opportunity to start again, but almost two years later, the world finds itself starting over, adapting, closing, or reopening with each new moment. Many entrepreneurs have found themselves asking, "What do I build next?"
If you're asking this question, it's time to grab your notebook, pencil, and a copy of Six-Figure Blueprints. Insights and stories from entrepreneurs all over the globe will give you the inspiration you need to draw up plans for your next successful venture. Hear from people who have been running businesses for decades and those who are just starting out, once again, in a post-COVID world. You'll need this book when you head back to the drawing board!
The stories in this anthology will have you brainstorming, talking, and feeling inspired to start from scratch or build the next phase of your business:
A venture capitalist offers insights on why you should always keep an eraser nearby while building your six-figure blueprint
A CTO believes that solving a problem should always be your focus as you develop technology or expand your business
An interior designer expanded during the pandemic, finding new ways to treat her customers and employees well in a time when they needed it most
A consultant and leadership coach tells her clients the importance of "aiming for infinity" and setting goals way beyond their wildest dreams
A TV and radio host's journey through hard times and development of a six-figure formula
No matter what industry you're in or what problem you're trying to solve, the authors in this anthology have advice, lessons, and inspiring stories that will help you navigate the first, second, and sixth drafts of your business venture. Because if there is anything that we know after COVID-19, it is that plans may need to be changed.

Start building your six-figure business with the help of entrepreneurs who have had build and build again. Get your copy of Six-Figure Blueprints today!
About the Author
---
Alinka Rutkowska is the CEO of Leaders Press (www.leaderspress.com), a USA Today and Wall Street Journal best-selling press, where she creates books for entrepreneurs from scratch and launches them to best-seller with a 100% success rate. She runs a hybrid publishing house with traditional distribution (via Simon & Schuster) through which more than 500 entrepreneurs have been able to share their stories with the world. 172 of Leaders Press authors have become USA Today and Wall Street Journal best-selling authors. Alinka has been featured by Forbes, Entrepreneur Magazine, Entrepreneurs on Fire and numerous other outlets. Her mission is to help 10,000 entrepreneurs share their wisdom with the world by 2030.