Richard Burton: Prince of Players (Paperback)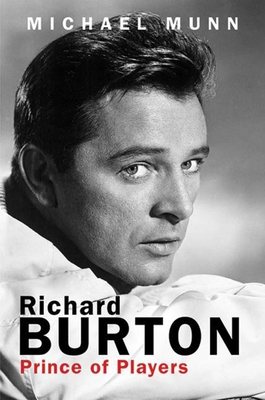 $14.99
Not currently available - email or call for details
Description
---
The whirlwind life of one of old Hollywood's biggest stars.

From the depths of a small mining village in Wales to a star of Hollywood's silver screen, Richard Burton broke every rule in his quest for the American Dream. Burton made sure that he sipped the cup of life at its fullest. Twice married to Elizabeth Taylor, he is now revealed to have been one of Marilyn Monroe's secret lovers. The details of these licit and illicit relationships with Hollywood's most iconic stars will titillate and shock both newcomers to Burton's story and those already familiar with his fame. Munn's biography covers everything from Burton's early days on the London stage, to his star performance in Broadway's Camelot, to his wild nights in Hollywood with the likes of Errol Flynn, Peter O'Toole, and Frank Sinatra. Burton was known for his charisma, his explosive temper, his excessive carousing, and, above all, his stunning command of stage and screen. This first-ever look at the real Richard Burton is a must-read for any follower of film, history, and the rise of celebrity in America.

Skyhorse Publishing, along with our Arcade, Good Books, Sports Publishing, and Yucca imprints, is proud to publish a broad range of biographies, autobiographies, and memoirs. Our list includes biographies on well-known historical figures like Benjamin Franklin, Nelson Mandela, and Alexander Graham Bell, as well as villains from history, such as Heinrich Himmler, John Wayne Gacy, and O. J. Simpson. We have also published survivor stories of World War II, memoirs about overcoming adversity, first-hand tales of adventure, and much more. While not every title we publish becomes a New York Times bestseller or a national bestseller, we are committed to books on subjects that are sometimes overlooked and to authors whose work might not otherwise find a home.
About the Author
---
Michael Munn is a film historian and the author of twenty-five books, including Stars at War, The Hollywood Connection, and the bestseller John Wayne: The Man Behind the Myth. As a journalist, he has written extensively on cinema, crime, ancient history, and World War II. He lives in Suffolk, England.
Praise For…
---
"Goes a long way towards unravelling a complex, troubled character." —Stage

"After reading this affectionately candid biography, it is hard not to echo Olivier's response on hearing of Burton's death: 'He was so young, so young.'" —Daily Mail

"Munn offers some choice anecdotes . . . There's no denying his affection for Burton, who comes across as modest, generous, and decent as well as irreverent and funny." —Daily Express

"Goes a long way towards unravelling a complex, troubled character." —Stage

"After reading this affectionately candid biography, it is hard not to echo Olivier's response on hearing of Burton's death: 'He was so young, so young.'" —Daily Mail

"Munn offers some choice anecdotes . . . There's no denying his affection for Burton, who comes across as modest, generous, and decent as well as irreverent and funny." —Daily Express